Tilingking game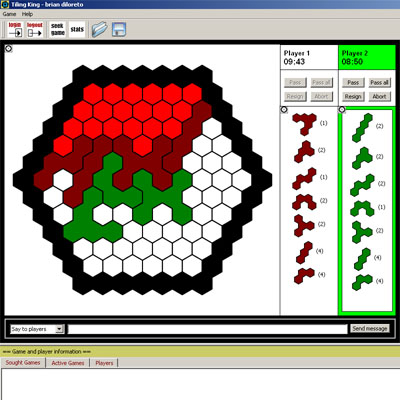 Download URL | Author URL | Software URL | Buy Now ($0)
TilingKing is a strategy game of territorial control which combines characteristics of the game of Go, in which the objective is to control a larger territory on a tiled game board than your opponent, and the "connection" games (Hex, Y, Havannah, TwixT, PuNCT), in which the goal is to form a fully-connected chain of pieces linking opposite sides of a tiled board. It is most similar to the games like *Star and Cathedral in its game play but is not constrained to use a board tiled by a particular polgyon (triange, square, or hexagon), to any particular board size or configuration of neutral tiles, or to any particular set of player pieces.
Related software (5)

The Grip control for MS .Net allows for making any forms and controls resizable in any direction. Grip control can be used together with the DDButton control to create complicated ...

Mnemonic Curve is fundamentally a game. The object of the game is to remember and repeat a sequence of mouse-clicks within a group of circles. Mnemonic Curve demonstrates principl ...

Calculate volume and surface area to blast away rocks and save your space ship! Galactic Geometry is an engaging 3D environment for learning about geometric figures and their equat ...

An eclectic collection of games to pass the time and challenge the mind. Mindgames is composed of card, board and miscellaneous games that are primarily puzzle based and varied in ...

Pyramid is a puzzle game of logic and math, with a bit of chance thrown in for fun. Remove the tiles from the board by matching the highest total combinations that are a multiple o ...