Pyramid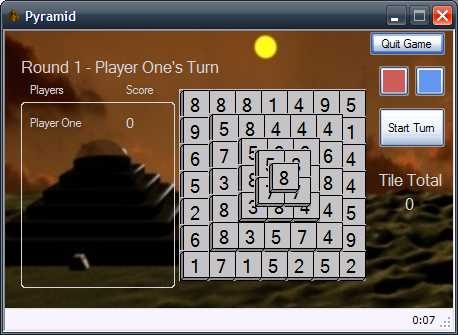 Download URL | Author URL | Software URL | Buy Now ($14.95)
Pyramid is a puzzle game of logic and math, with a bit of chance thrown in for fun. Remove the
tiles from the board by matching the highest total combinations that are a multiple of the
dice values. Higher scores are earned by making matches faster. Play Solo, against the computer, Multiplayer and LAN / Internet games. Normal mode allows room for chance, while Challenge mode levels the playing field and makes it a match of skill. High scoreboards track your best scores and times. Online High scoreboards are available to see how your scores match up against other players from around the world. Pyramid is great for teaching addition, subtraction, multiplication and division. Recommended for ages 10 and up.

New additions coming soon to Pyramid: Ultimate mode and other requested features. Register now and submit suggestions for upcoming versions.
Related software (5)

Calculate volume and surface area to blast away rocks and save your space ship! Galactic Geometry is an engaging 3D environment for learning about geometric figures and their equat ...

Two games in one. Checkers of different color on a board have to be surrounded either to be put together (Game1) or to be separated into symmetric zones (Game 2) . The board can b ...

25+ new addictive logic puzzle games, from the well known brands to the new best-sellers! This collection of puzzles includes classic Lines games and new hits: Columns (Coolumns) ...

OddEven free(freeware): Free version contains full puzzle generator (sandbox) with all settings except Campaign.

How quickly can you decode the popular number puzzle?