Tanks start of the war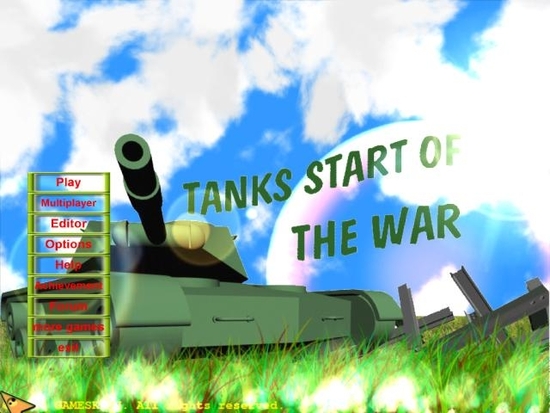 Download URL | Author URL | Software URL | Buy Now ($0)
This beautiful game has 2 modes:
1. Classic - Defend your base from scary enemies.
2. Flag mode - Crafty enemies with a swarming type of intelligence conspire to steal your flag. You can't even let them on your base!!

Naturally there are bonuses to earn. How are you going to win without them?
Keep statistics on 20 unique achievements. See how high you can grow each one!

Multiplayer mode is supported.
In multiplayer, you can play through your LAN or via the Internet!
Please music and exciting sound effects will dazzle you!

This beautiful game has 2 modes:
1. Classic - Defend your base from scary enemies.
2. Flag mode - Crafty enemies with a swarming type of intelligence conspire to steal your flag. You can't even let them on your base!!

Naturally there are bonuses to earn. How are you going to win without them?
Keep statistics on 20 unique achievements. See how high you can grow each one!

Multiplayer mode is supported.
In multiplayer, you can play through your LAN or via the Inte
Related software (5)

Sequel to the game Kill All Zombies. Zombies still arrive, show them who is boss. Kill all the zombies and become the king of the world! Do not let the zombies void your entertainm ...

Funny game with realistic physics with 30 levels of colored Bunnies shooting from cannons. In some levels you need to think ahead, how to advance by connecting the logic, and some ...

You play the role of a brave wizard on a dangerous adventure through dungeons to save his village from the monsters living in them. The game has 8 levels, each of which will be flo ...

Infinite space poses various dangers - meteorites, ships of bandits, anomalies. December 26, 2094, in the lab FSP begins testing a prototype light warship AX-01. The peculiarity of ...

Adapted from mobile devices, a fast arcade game with brand new mechanics. You'll need to snap and shoot down the colored jelly cubes. Enjoy the game!