Super pitcher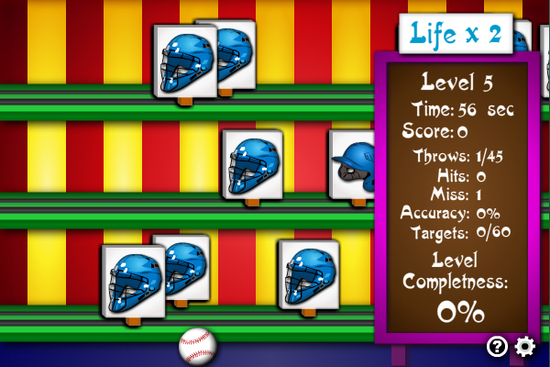 Download URL | Author URL | Software URL | Buy Now ($0)
You don't have to shoot a gun in order to be enshrined in the hall of fame for sharpshooters - aim and shoot the objects and get the rewards in the fair, and you will surely be adored! This game opens with a page stating the valid and invalid targets of the round. Press the Continue button at the bottom to start the game, and you will be given 3 rows of moving targets, scrolling from right to left. Use your mouse to aim, then click to shoot the baseball. You may hit multiple objects by using a single baseball and this will bring you a higher score. The objects will move at a faster pace when you advance in the game. Remember not to shoot the invalid objects as one life will be deducted if you do so. If an "1 Up" target appears, you may knock it down to get one extra life. You lose the game if all 3 lives are gone, so mind your aim in order to survive. The board on the right will show the remaining seconds, your current score, and other related information including the number of throws
Related software (5)

Help RoboToys as they explore the world around them. Each day after the factory workers close up at the Toy Factory, the RoboToys come alive. Curious about the world around them, t ...

Shoot like a pro and rise to stardom!

For how long can you keep the can in the air?

Take the discs down on the energetic beach!

Hold the alien invasion in this retro shooting game.