Strategic bingo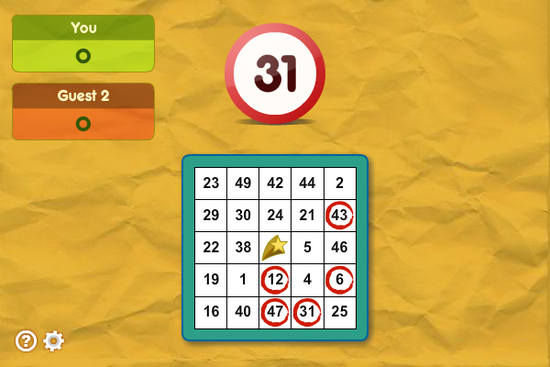 Download URL | Author URL | Software URL | Buy Now ($0)
The number that you are anticipating appears at the right time, in the right place. You can then call "Bingo!" proudly and make your opponents stare at you jealously! Your goal in this game is to form a line of circled numbers in horizontal, vertical or diagonal direction. When the game starts, each player will be given a card consists of 25 different numbers in a 5x5 grid. Then from time to time a random number will appear at the top of the screen, and if that number exists on your card, you can click to circle the number on your card before the given number disappears. The star in the middle of the card is the wild number, and you can use it when you are forming a line. When a horizontal, vertical or diagonal line is formed by 5 circled numbers or 4 circled numbers and the star, you can click the button that appears on the right of screen to call "Bingo!" and receive 1 point. You can also choose to wait until 2 lines are formed and receive 2 points, and so on. But note that if an opp
Related software (5)

Cover the most boxes to avoid penalty points.

Aim for a Full House in this exciting bingo game!

Challenge your mind and luck in this famous board game!

Block your opponent's path and be the first to empty your hand!

Force your opponent to take the last piece of match!