Sockettools library edition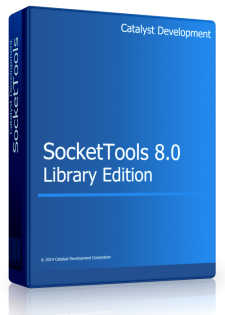 Download URL | Author URL | Software URL | Buy Now ($395)
The SocketTools Library Edition is a collection of over twenty dynamic link libraries (DLLs) that provide a comprehensive interface for all of the major Internet protocols. Upload and download files, send and retrieve emails, execute remote command and access web servers with only a few lines of code. SocketTools makes it easy to perform common tasks, but also provides a lower-level interface for the kind of flexibility required with complex applications. Function declarations are included for C/C++, Delphi and Visual Basic along with several other languages, and the libraries can be used with virtually any programming language that is capable of using the Windows API.

SocketTools includes both 32-bit and 64-bit libraries in the same product, enabling you to target either platform. It also includes support for IPv6 network connections, as well as both standard and secure connections using the SSL/TLS and SSH protocols. Each library is thread-safe, supports both synchronous and asynchr
Related software (5)
A powerful web server that handles multiple domains and supports PHP, Perl, MySQL, and much more.

The SocketTools .NET Edition is a collection of Internet components for Visual Studio 2013 and earlier versions. Includes support for 64-bit platforms, IPv6 networks and secure con ...

ActiveX COM objects which let your applications create, send, manage, download and parse mail. SMTP, POP3, IMAP, SSL, Gmail, S/MIME, HTML mail, attachments, international charsets, ...

The SocketTools ActiveX Edition is a collection of over twenty controls for Internet application development. Includes 32-bit and 64-bit controls with support for IPv6 networks and ...

Enables .NET applications to sign, verify, encrypt, decrypt e-mails, work with DKIM/DomainKeys, S/MIME and SSL/TLS certificates, connect to secure mail servers with MailBee.NET SMT ...