Smiley land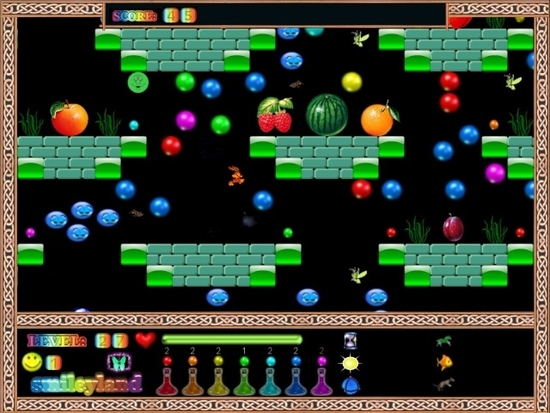 Download URL | Author URL | Software URL | Buy Now ($0)
Spike to bring back the joy to the country SmayLend.
For this it is necessary to collect all the colors of the rainbow - they are scattered in the form of drops of paint.
Spike is a little unusual ability to walk on air. This will help him achieve the goal.
The game has 30 levels. On the top level, all the collected paint to convey to the rainbow.
Save the emoticons and their country SmayLend.
Spike to bring back the joy to the country SmayLend.
For this it is necessary to collect all the colors of the rainbow - they are scattered in the form of drops of paint.
Spike is a little unusual ability to walk on air. This will help him achieve the goal.
The game has 30 levels. On the top level, all the collected paint to convey to the rainbow.
Save the emoticons and their country SmayLend.
Spike to bring back the joy to the country SmayLend.
For this it is necessary to collect all the colors of the rainbow - they are scattered in the form of drops of paint.
Spike is a little unusual ability t
Related software (5)

PDF Multitool (FREEWARE) includes set of functions to extract data and text from PDF files: PDF To XML, PDF To CSV, PDF To Text, reading text from scanned PDF using OCR, search tex ...

Stackup is a cool game that include Columns, StackUp and Bricks. 100 best scores saved for each game. Background music included. Background sounds from original ZX Spectrum. Select ...

Meteor Destroyer is an arcade game in which you have to destroy meteorites that are getting in the way of a space project. To do this, you have to choose the correct missile trajec ...

Evil does not sleep. The fight rages on as the fires burn... The forces of evil closed in to conquer the land. People were not able to withstand the onslaught of demons and were de ...

FlyingRock is a top view fencing arcade game in which the player with the mouse controls the movement of weapons. It is a spiritual successor of Hammerfight, but with a different a ...