Securdesk!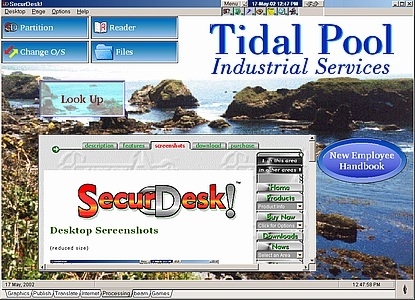 Download URL | Author URL | Software URL | Buy Now ($199.95)
Whether you are responsible for multiple computers in a corporate office, or just need a way to keep novice users from tampering with the system settings, SecurDesk! offers many options which may be used alone, or in conjunction with other security measures, to control access to important materials, to hide confusing and irrelevant items from selected users, to simplify training tasks, etc. SecurDesk! is a complete replacement for the Windows default Explorer.exe desktop/file manager shell.

SecurDesk! Features Include: a desktop interface which can be custom designed; Logging of system usage; Enhanced file management with optional restrictions; Virtual desktops; Data protection with auto-encryption to limit files seen by users; Locally verified Login; Desktop password protection; Scheduled actions; Prevent Ctrl+Alt+Del and other key combos; Task Manager; Log off users after a specified period; limit usage days and times; expire user permissions; restrict to only a single instance of
Related software (5)

Using PDF encryption software, block pdf printing and copying content from it. Software batch encrypt pdf files, instantly restrict pdf form filling, signing, commenting, extractio ...

Axommsoft Pdf encryption software add pdf open password and restrictions password (known as owner password) to restrict pdf printing, text copying, changing, filling, commenting, s ...

WinGuard Pro 2016 can Password Protect Programs and encrypt files on your computer. Users can add Password Protection to any Windows Program (ie Exe's, Store Apps, Desktop Apps). L ...

With Hide Folders utility you can protect your files and folders, lock them and hide from other users. Download free trial of Hide Folders right now!

Lock My PC Free Edition is a good and free alternative to standard Win+L Windows lock. Use it every time when you leave your computer unattended.