Fileghost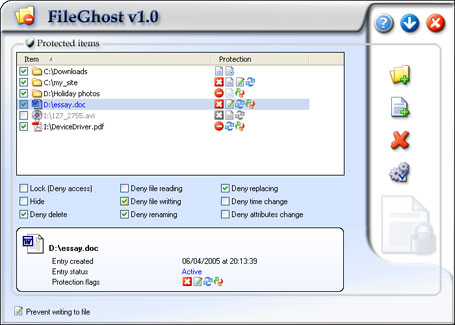 Download URL | Author URL | Software URL | Buy Now ($24.95)
FileGhost is the security tool used to protect your files, folders or even whole volumes in various ways. You will be able to securely lock, hide, deny file reading, deny file writing, prevent deleting, copying, moving, renaming and replacing, and even prevent file attributes or file timestamp changes. User interface is intuitive and very easy to use, just drag and drop your files and set desired checks - protection will be activated immediately. You can use FileGhost to protect your important data from other people but also from malicious software such as viruses, trojans, spyware and others. Additionally you will be able to use many other security options, among which you can protect access to program by setting password and thus effectively prevent others from changing options you set. FileGhost is excellent supplement for antivirus and other anti-malware software.
Related software (5)

CryptDecrypt is an electronic data protection software. It encrypts your files and folder contents with a password that you select. Strong encryption ensures that your information ...

Pdf encryption software allows users to disable pdf print button to protect it, block pdf text (content) copying from being theft, restrict form filling, disallow page editing, sec ...

With Hide Folders utility you can protect your files and folders, lock them and hide from other users. Download free trial of Hide Folders right now!

east-tec SafeBit 2 features military strength on-the-fly AES encryption, by creating virtual drives, where you can hide files and folders, keep them encrypted all them time, but st ...

The easiest way to hide and lock your folder from prying eyes. During the setup process, specify the location of your private folder and your password. After the setup is finished, ...