Remote computer description updater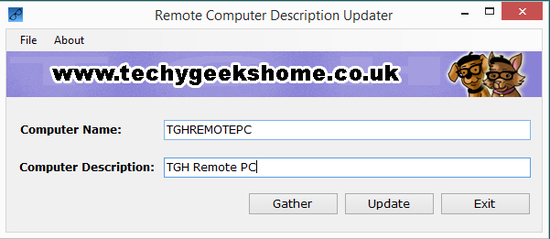 Download URL | Author URL | Software URL | Buy Now ($0)
Update a computer description on local machine or remotely connect to any machine to change the computer description on the machine that you connect to.

This program can be used to update the computer description on either a local machine that the program is run on, or you can use it to remotely connect to any machine on a domain network using your domain administrator credentials as authentication and change the computer description on PC.

This then allows you to change the local computer description on the machine that you are attached to.
Related software (5)

Remote view by WEB BROWSER,Remote View Client and Mobile telephone(wap). Record video with a programmed schedule. Provides Alerts like Video Recording,Photo Snaps,Sound Alarms,E-ma ...

The Gadgetbar Toolbar helps protect your computer with powerful anti-virus & internet security scans, tune ups, PC fixes, firewall attack tracking, email protection and more. It do ...

Distributed system providing detailed information on computers in a network. It performs real-time monitoring of system-critical parameters making it possible to diagnose existing ...

Control your PC, application or game can be controlled by voice commands and/or by the press of a keyboard, mouse button or combinations of it, additionaly you can start any of you ...

RoCKNet is a powerful Network and Resources Monitoring tool. It enables monitoring of a multitude of information on your network, including: Disk space, Ping, Website, Folder size ...