Multiplayer mancala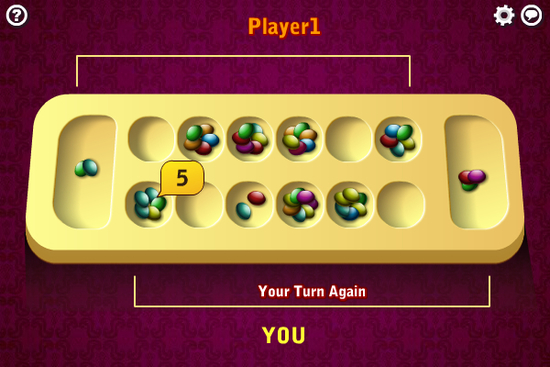 Download URL | Author URL | Software URL | Buy Now ($0)
Mancala is an ancient board game which dates back to the 6th century AD, and your goal is to gather as many pieces of gems in your store as you can. On the game board, 12 small pits are evenly divided into 2 rows, and each of the pits contains a number of gems. The upper row of pits belongs to your opponent, while the lower row belongs to you. The 2 large pits on the left and right of the board are the stores. The store on the right belongs to you, and the one on the left belongs to your opponent. You and your opponent will take turns to move the gems, and each time you can click any of the pits on your row. When a pit is selected, the gems inside will be distributed one by one to the next pits in counterclockwise direction. If the last gem of a move lands on your store, you can take one more turn by selecting another pit. If the last gem of a move lands on an empty pit on your side while the opposite pit contains gems, you can capture all of the gems in both pits and put them to your
Related software (5)

5 Realms of Cards interweaves a revolutionary new solitaire gameplay with a fairy-tale story. Explore over 70 levels to help a young princess named Jokerina restore peace and beaut ...

New variant of Chess game for Casual players with random moves generator. You necessary also to have an usual chess board and second player. Interface of the game is specially made ...
Logic Mahjong is a single player logic game. Remove the matching tiles from a mahjong board to win the game. 400+ Layouts, some up to 1200 tiles. Puzzles have a logical solution. U ...
PhotoRemedy is digital photo correction software with intelligent correction algorithms and smart learning! It analyzes your photo and presents you with a correction for problems w ...

Play PrismaPix, a uniquely intriguing puzzle game! Use logic to find surprise hidden photos - you never know what you'll find next. Solve clues to reveal photos layer by layer. Ove ...