Multiplayer lineup four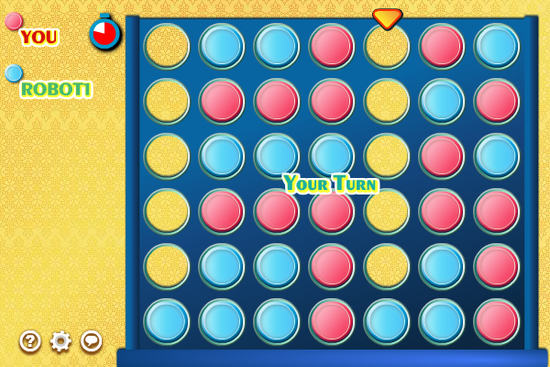 Download URL | Author URL | Software URL | Buy Now ($0)
Challenge a friend in your favorite pastime during travel! Your goal in this game is to connect 4 of your color discs so that they form a horizontal, vertical or diagonal line. You will be given a board consists of 42 empty spots, which are evenly divided into 7 columns. You and your opponent will take turns to place discs into empty spots on the board. During your turn, you can move your mouse to select a column, then click to place the disc. Note that you need to finish your turn within the given time limit as indicated by the timer on the screen, or you will lose. When a player forms a horizontal, vertical or diagonal line with 4 discs of the same color, the game is won. Indulge in the endless fun of this strategic board game now!
Related software (5)

A combination of luck and strategy game, the Backgammon is played under hundreds of variants since the high antiquity. 3D version, ergonomic intuitive interface, multiplayer game l ...

A fine 3D Chinese checkers to challenge the computer locally at various levels or other players on network like Internet. International or British checker board and rules. Various ...

It is one of the oldest games of spatial strategy in the world presented in a 9 paws, 3D version with simple rules and countless strategic options. You play against the computer or ...
PhotoRemedy is digital photo correction software with intelligent correction algorithms and smart learning! It analyzes your photo and presents you with a correction for problems w ...

25+ new addictive logic puzzle games, from the well known brands to the new best-sellers! This collection of puzzles includes classic Lines games and new hits: Columns (Coolumns) ...