Multiplayer darts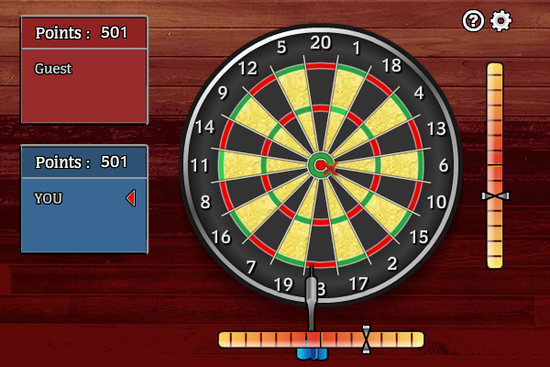 Download URL | Author URL | Software URL | Buy Now ($0)
Can you finish 501 points with the smallest number of throws? Your goal in this game for 2 or 4 players is to reduce your team's initial 501 points to 0 with the fewest throws, while the last throw that ends the game must hit the double ring or the bullseye. The dartboard is divided into 20 sections, each of the sections carries a score ranging from 1 to 20. Each section is further divided into 4 regions by an outer ring (the double ring) and an inner ring (the triple ring). Hitting any of the two larger regions gives the point value of that section, while hitting the double ring gives double points of that section and the triple ring gives triple points of the section, for example, when a dart hits the double ring in the section of 3 points, you can receive 6 points, and when a dart hits the triple ring of 3 points, you can get 9 points. The red dot at the center of the dartboard is the bullseye that gives 50 points, and the green ring outside the bullseye is the bull's ring that give
Related software (5)

Shoot all opponent pieces into the hole.

Can you throw into all nine baskets before your opponents do so?

Compete with friends or robots and see who is the master of prime!

Can you say "bingo" at the perfect moment?

Pocket the 8-ball after clearing your assigned group from the table.