Multiplayer chess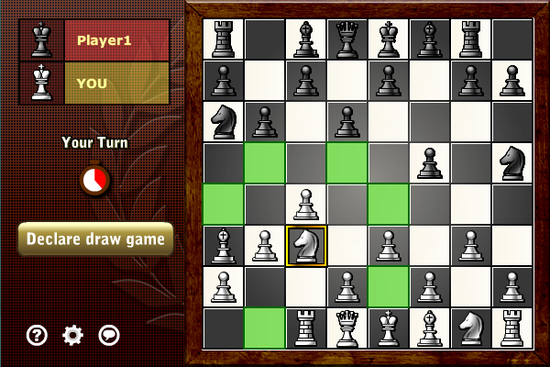 Download URL | Author URL | Software URL | Buy Now ($0)
Whether you are a brave commander who aims to wipe out all enemy forces, or a wise tactician who defeats your opponent through tactics and intrigue, the historic game of chess will surely make you sit on the edge of your chair. Your goal is to move your pieces to capture the king of your opponent. When the game starts, you will be given a chessboard with 64 squares, and each player will be assigned a set of pieces. Each set contains 1 king, 1 queen, 2 rooks, 2 bishops, 2 knights, and 8 pawns, making a total of 16 pieces. The two players will take turns to make their moves. Note that during your turn, you need to finish your moves within the time limit indicated by the timer on the left of the screen, or you will lose.

A pawn can only move forward. During its first move, it can choose to move 1 or 2 squares forward, given that both squares are unoccupied. After that it can move 1 square forward vertically to an empty square, or move 1 square forward diagonally to capture the opponent
Related software (5)

A fine 3D Chinese checkers to challenge the computer locally at various levels or other players on network like Internet. International or British checker board and rules. Various ...

It is one of the oldest games of spatial strategy in the world presented in a 9 paws, 3D version with simple rules and countless strategic options. You play against the computer or ...

New variant of Chess game for Casual players with random moves generator. You necessary also to have an usual chess board and second player. Interface of the game is specially made ...

The classic board game Reversi, also known as Othello, is easy to learn yet difficult to master. Trap your opponent's game pieces between yours to win. 3D animated graphics, soun ...

Tactical Soccer is an exciting new turn-based simulation of the soccer match. Features single exhibition match, knock-out cup and league tournament.