Mr. robot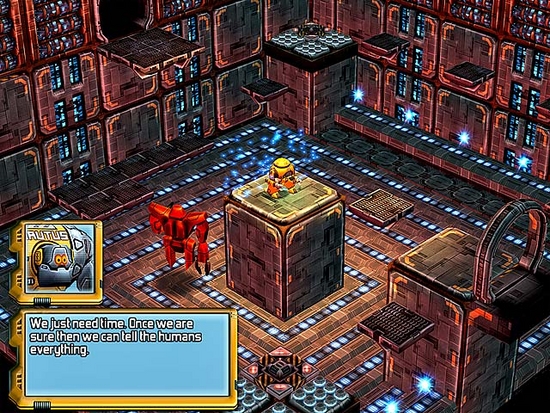 Download URL | Author URL | Software URL | Buy Now ($24.95)
Asimov is a lowly service mechanoid aboard the interstellar colony ship Eidolon. Carrying hundreds of frozen human colonists to a new world. When the Eidolon's computer brain malfunctions, it falls to Asimov to undertake a perilous journey through the bowels of the massive ship to save his robot friends and the precious human cargo.

Mr. Robot is a 3D action-puzzle-adventure-rpg. Inspired by classic filmation games such as Knight Lore and Alien8 and mixed with'Ghost Hack' - an abstract RPG in which the player hacks into computer terminals and battles defensive computer programs.

FEATURES:

* Over 200 beautifully realised (yet perilous!) rooms.
* Over 20 different enemies.
* 7 friendly robots to aid you in your quest.
* Hack hostile networks in 'ghost hack'.
* Solve puzzles.
* Numerous medals to unlock.
* Built in Editor so you can create your own adventures.
* Discover what has caused all the problems onboard the starship.
* Rescue your robot friends and the sleeping human crew and sa
Related software (5)

Escape is a tile-based puzzle game in the style of "Adventures of Lolo" or "Chip's Challenge." Unlike either of those games, Escape doesn't rely at all on reflexes--it's all about ...

Moonpod's Starscape mixes arcade game play with characterisation and involving plot. With most of its crew missing the space station Aegis is all but lost. As last remaining pilot ...

Ziggle is a simple and intuitive yet infinitely replayable and challenging free PC arcade strategy puzzle game. Use your Mouse, Keyboard, Joypad or PC Dance Mat to keep as many of ...
Click on letters in the 25 tile puzzle board to make valid English words while trying to figure out the mystery word to gain extra points. There are 1,000 mystery words in 14 diff ...

Game collection with 10 free action & arcade games: "A.L.I.A.S 2", "Banana Barrage", "Crazy Shooter", "Guardian Angel", "Kumite 1.0", "Neon", "Pearl Harbour", "Shield Defense", "Su ...