Mocha x server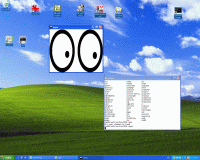 Download URL | Author URL | Software URL | Buy Now ($0)
Mocha X Server is a simple to use PC X server software program that is running on a standard PC Windows platform, such as Windows XP. Mocha X Server lets you connect quickly and easily to X Window applications running on UNIX and Linux platforms. The UNIX application run on the remote server, but the application output appears in a window on the PC, and looks as any other local Microsoft Windows program. This makes for an integrated world, where you can have mix of local and remote programs on the same desktop. Mocha X Server includes: Implementation of X11R6.8.2 Runs X11 Applications as normal Microsoft Windows Clipboard support Local Icons 4 client startup methods: TELNET,RSH,REXEC and RLOGIN 2 and 3 button mouse support + wheel mouse support Uses the Microsoft Windows keyboard driver, which makes keyboard configuration very easy Host access check
Related software (5)

MobaXterm is a set of network tools included in a single portable exe file. MobaXterm integrates an X server and several network clients (SSH, RDP, VNC, telnet, rlogin, sftp, ftp, ...

Simple Effective Affordable We didn't want to pay nearly $1000 to backup our XenServer VMs and now you don't have to either.

FTPshell Server is a Secure FTP Server and SSH2 Secure Shell Server available in a single software package. It supports file transfer and shell access using FTP, FTPS, SFTP, Telnet ...

Scanner of shared resources. Advanced tcp/udp terminal. Free and fully portable.

Happytime Onvif Server is a Network Video Transmitters (NVT) devices simulation program. Full support ONVIF standard, implements Discovery, Device and Media services.Written in C, ...