Math flash cards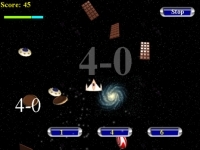 Download URL | Author URL | Software URL | Buy Now ($9.79)
Math Flash Cards is an exciting space arcade game. It is fun and educational at the same time! Kids will have fun learning essential math facts. It is so easy to use that anyone can do it! Dedicated to promoting education, it comes with a free level which never expires.

Basic math skills are critical in this day and age. Persuading children to focus on math can be a chore. With this in mind, Math Flash Cards was created to make studying math enjoyable.

Math Flash Cards is a self paced learning system. New questions are introduced only when the learner has successfully mastered current material. This allows for children to feel a sense of mastery and accomplishment. Repetition of the game will cement ideas into long term memory.

Children learn best when learning is fun. Built as an arcade style game, Math Flash Cards turns the chore of learning basic math facts into an adventure.

Jump right into the game without a steep learning curve. A simple interface with straig
Related software (5)

What does 101101 + 11011 equal? Or how about 11011011111 times 1101110111? If these questions spark interest, then Binary Adder is for you! Binary Adder not only adds binary num ...

Smooth Operators is a complete solution for learning, practicing, and testing the order of operations. An interactive lesson teaches concepts. Practice by clicking operands, or tes ...

Learning mathematics can be a challenge for anyone. Math Flight can help you master it with three fun activities to choose from! With lots of graphics and sound effects, your inter ...

Complete the equations in the interesting arithmetic test!

Use the given cards to form a valid equation within 60 seconds!