Binary adder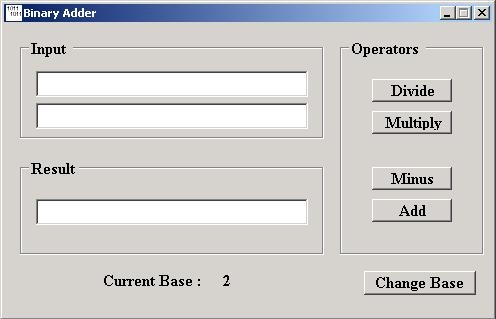 Download URL | Author URL | Software URL | Buy Now ($4.98)
What does 101101 + 11011 equal? Or how about 11011011111 times 1101110111? If these questions spark interest, then Binary Adder is for you! Binary Adder not only adds binary numbers but allows you to subtract, multiply, and divide them as well.

Binary Adder is a simple solution for those seeking a quick and easy way to perform basic operations on binary numbers. It is a perfect homework companion to help you check your answers. Binary adder allows you to change back and forth between several bases as well. In this way you can actually know how much 1110101 is without having to figure it out yourself.
Enjoy.
Related software (5)

Math Flash Cards is an exciting space arcade game. It is fun and educational at the same time! Kids will have fun learning essential math facts. It is so easy to use that anyone ...

Smooth Operators is a complete solution for learning, practicing, and testing the order of operations. An interactive lesson teaches concepts. Practice by clicking operands, or tes ...

Learning mathematics can be a challenge for anyone. Math Flight can help you master it with three fun activities to choose from! With lots of graphics and sound effects, your inter ...

Complete the equations in the interesting arithmetic test!

Use the given cards to form a valid equation within 60 seconds!