Mailcopa email client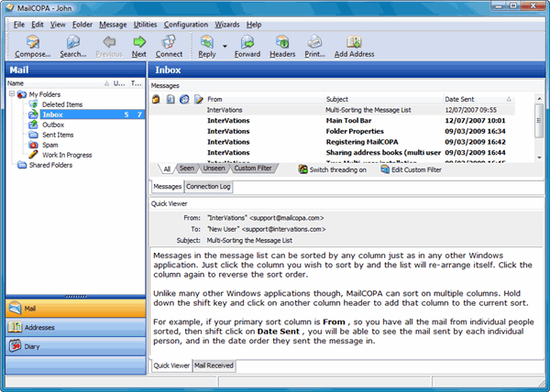 Download URL | Author URL | Software URL | Buy Now ($39.95)
MailCOPA, simply the best email client available. It is the most powerful out-of-the-box email client you can purchase to date. Why? Not only is MailCOPA easy to use but it is pre-configured to aggressively combat SPAM and viruses and is fully multi-user and multi-machine capable. In addition to being a great help to small and medium sized businesses, MailCOPA also has some great features for home users.

The MailCOPA email client is ideal for business users who require powerful and flexible email handling. MailCOPA has a user-friendly interface and state-of-the-art features including: powerful and highly efficient SPAM filtering, fully customizable filters, read and unread email sorting, search and keep email flags. Using preset filter lists to score SPAM in addition to "white" lists (for email from the good guys) and "black" lists (for email from the bad guys), MailCOPA blocks (placing it in a SPAM folder) almost all unsolicited email letting you control what comes to your inbox.

M
Related software (5)

MailBoy 2004 MASS MAILER - Easy to use yet powerful mass mailer. Fully integrated DNS and SMTP - you can focus on marketing, not on setting the tool!

The product is a bulk email send software,and produced by on group of elites,who work at professional mail server development and Anti-trash Email rules.Which contain Email Marketi ...

use our software to organize your emails online, The Commando will quickly scan a list of emails and weed out the ones that are no longer working for any reason

The Bat! protects your information through multiple encryption streams with the options to encrypt your emails on disk and during communication through an SSL/TLS connection.

Free email notifier and email sender in one. Supports all standard account types IMAP, POP3, SSL, gmail,hotmail...