Ice dracon lair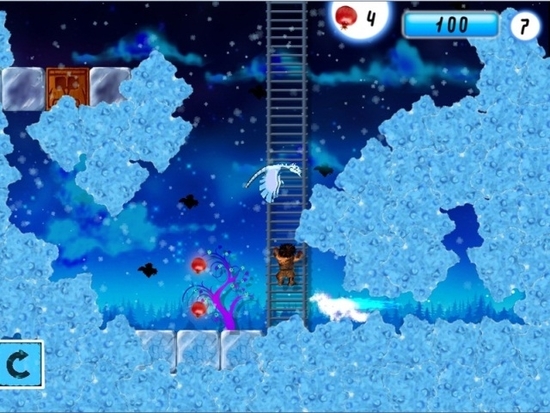 Download URL | Author URL | Software URL | Buy Now ($0)
In the lair of the dragon ice grows unusual tree, whose fruit ripens in winter.
The fruit of this tree is very curative - any illness disappeared in one day. Also, these miracle fruits give
frost ate them. That is why some people are risking their lives making desperate attempts
get the fruit in the ice dragon's lair. Of course, not everything is so simple. Guardians of the dragon guarding the fruits of
men. If you encounter any of these people instantly freeze. Besides healing fruit in the den
dragon lying around various precious stones, so if you want you can collect them too.
The game is similar to the famous "Lode Runner". Our hero collecting all the berries on the same level, goes to
other. The goal - to collect all the berries over N levels and remain unfrozen. Yes, everything else is our
hero, collecting a miracle fruit, eats some of them to stay warm in the lair of the dragon.
Also, our hero can pierce holes with a sledgehammer, but they quickly tightened the new ice. It is nec
Related software (5)

After a long journey through forests, fields and caves, a special agent finally locates the mystical bloody lake. The game combines the elements of shooter, stealth and puzzle game ...

Interesting game. You need to get through the portals of the dungeon. You - a small ball. Funkiness, but bold. Try out! Good luck!

In this Platformer you have to solve various puzzles. There are over 20 different levels, each of which has its own peculiarity. For example, doors which will open only if the char ...
Wanna play a doctor? This game especially for you! Dark night. Suddenly phone calling. Urgent call. Angry virus eat the patient. He do not wish to retreat without last fight. No ti ...

An interesting yet very sad game. A simple soccer ball falls into the hands of the football demons, and tries to escape their grasp by all means. He must fight them, and even if vi ...