Ice dracon lair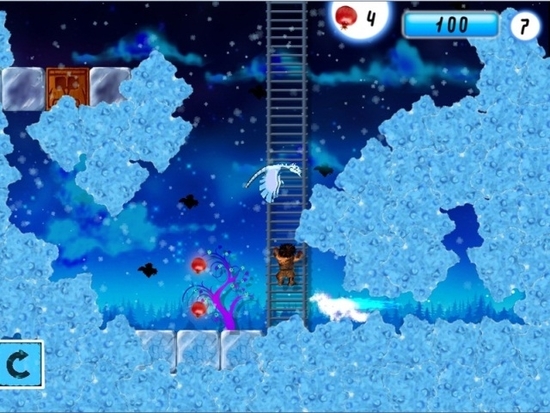 Download URL | Author URL | Software URL | Buy Now ($0)
In the lair of the dragon ice grows unusual tree, whose fruit ripens in winter.
The fruit of this tree is very curative - any illness disappeared in one day. Also, these miracle fruits give
frost ate them. That is why some people are risking their lives making desperate attempts
get the fruit in the ice dragon's lair. Of course, not everything is so simple. Guardians of the dragon guarding the fruits of
men. If you encounter any of these people instantly freeze. Besides healing fruit in the den
dragon lying around various precious stones, so if you want you can collect them too.
The game is similar to the famous "Lode Runner". Our hero collecting all the berries on the same level, goes to
other. The goal - to collect all the berries over N levels and remain unfrozen. Yes, everything else is our
hero, collecting a miracle fruit, eats some of them to stay warm in the lair of the dragon.
Also, our hero can pierce holes with a sledgehammer, but they quickly tightened the new ice. It is nec
Related software (5)

Way of Hero - a great first-person shooter with excellent graphics and fun gameplay! In the city where you live - retired soldier, one day, in the night scary creatures rushed in, ...

On the home you, a retired lieutenant, have an accident near a small town. As the daze wears off, you notice that some strange people are moving toward you. Looking closer, you fin ...

After a failed experiment, subterranean creatures - giant worms - were awakened. To save humanity and destroy the worms, Captain Price, war veteran and a real hero was sent on a mi ...

If you passionately adore speed and cars, and most of all dream about tearing around in a large and powerful jeep, this game was made for you. First locate the finish line on the m ...

Hummer - the legendary US Army 4 X 4. The combination of modern technology and uncompromising force makes it the best fighting machine in the world. No wonder it is called the "Ame ...