Fonts manager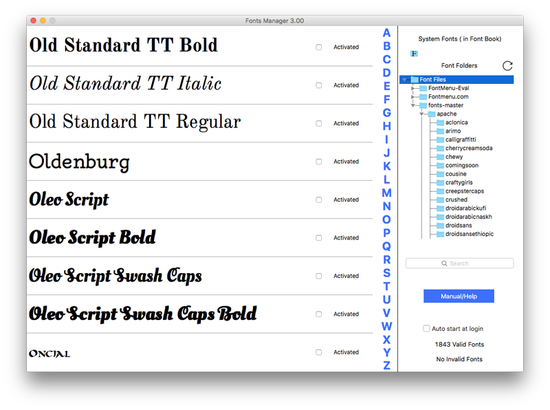 Download URL | Author URL | Software URL | Buy Now ($19.99)
Manage all your .ttf, .otf, .dfont and .ttc files without smothering Font Book. Support of Classic Mac OS 7.5-9.xx Font Suitcases.

Drag entire fonts folders into Fonts Manager, and see them displayed without having to install them first. Try them out at a click of the mouse, and see how they look with your own typing at sizes between 8 and 500.

Add and activate entire folders.

Activate and deactivate fonts in a single click on a check box. Activate and deactivate entire folders. Very convenient for graphic projects, so you can keep all the fonts needed neatly tucked into a single folder which can then be passed to the Typesetter or Printer all at once.

This app installs and manages elegantly the 1700+ Google Fonts, usually web oriented. Display them and activate or deactivate each in a click, without bloating Font Book content. Once activated, they will show in all standard Mac OS X applications : word processor, desktop publishing, graphic applications, presentations, etc.

Font
Related software (5)

Nine Fixed Width or Monospaced OpenType Fonts for Windows. Includes: CourierCondensed, Letter, Prestige, PrestigeCondensed, ProFix 2, and Sans Mono. Great for email, spread sheets, ...

Print bar code 3/9 from Windows using TrueType or PostScript fonts. Includes human readable versions of barcode 3/9 with text on the top or bottom. Visual Basic functions for Excel ...

Manage all your .ttf, .otf, .dfont and .ttc files without cluttering Font Book. Support of Classic Mac OS 7.5-9.xx Font Suitcases. Activate/deactivate single fonts or entire folde ...

Font Wrangler is the TrueType/OpenType font manager that makes it easy to install, remove, rename, and copy fonts. You can quickly browse and weed installed and downloaded font col ...

FontShow is a small program useful for viewing and printing the TrueType fonts installed on your system. Options are included to display user-specified sample text in place of the ...