Fontshow 2000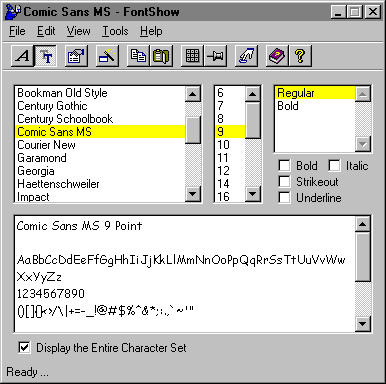 Download URL | Author URL | Software URL | Buy Now ($12.95)
FontShow is a small program useful for viewing and printing the TrueType fonts installed on your system. Options are included to display user-specified sample text in place of the normal font name and alphanumeric character set. The size and face of the currently selected font can be quickly changed and the result displayed automatically. A printed copy of the font can also be produced. The selected font's metrics can be viewed in a small font properties window by simply double-clicking on the font name in the pick list. Windows stock font objects can also be displayed with this utility, making it handy for programmers and developers. FontShow can also be configured to optionally place its program icon in the Taskbar notification tray.
Related software (5)

Print bar code 3/9 from Windows using TrueType or PostScript fonts. Includes human readable versions of barcode 3/9 with text on the top or bottom. Visual Basic functions for Excel ...

Font Wrangler is the TrueType/OpenType font manager that makes it easy to install, remove, rename, and copy fonts. You can quickly browse and weed installed and downloaded font col ...

Disk CleanUp is a small disk utility designed to clear previously deleted files. Deleting a file will normally just remove the file's directory entry, but the data itself still rem ...

RGB Editor is a small utility useful for selecting and creating RGB colors for graphics projects. The values of the red, green and blue components are displayed and easily transfer ...

Unit Conversions 2000 is a small utility that will allow you to quickly convert units of measure from one system to another. Facilities are included to convert various Lengths, Wei ...