Folder security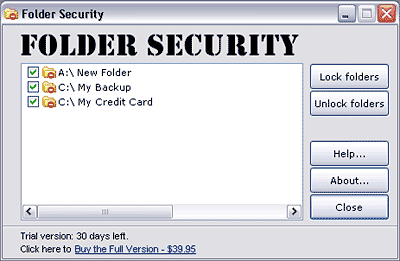 Download URL | Author URL | Software URL | Buy Now ($39.95)
Folder Security is a software program designed to protect your sensitive data on internal, external and removable drives.

Folder Security supports Windows XP, NT, 2000, ME, 98, and 95 OSR2. To unlock protected folders, your personal password is required. In contrast to other programs, Folder Security does not store the password on the hard drive. This gives you a great advantage: even if you reinstall Windows, folders retain protection and you can easily unlock them with your password.

You can install Folder Security right on your USB external or removable drive and lock/unlock folders at any computer your drive is connected to.

Folder Security is very easy to use. Just click the Lock Folders button, select the folder and enter the password. Folder Security provides a comfortable interface for working with folders stored on your computer. This program gives you reliable protection of your sensitive information. Download Folder Security now.
Related software (5)

Folder Password Protect is a software program that lets you set a password on folders of your choice. Folder Password Protect is ideal for notebooks. If your notebook is lost or st ...
Password Protect Folders is security software that lets you make your folders private. It is convenient that the program lets you lock folders from within Windows Explorer via a ri ...

With Hide Folders utility you can protect your files and folders, lock them and hide from other users. Download free trial of Hide Folders right now!

east-tec SafeBit 2 features military strength on-the-fly AES encryption, by creating virtual drives, where you can hide files and folders, keep them encrypted all them time, but st ...

The easiest way to hide and lock your folder from prying eyes. During the setup process, specify the location of your private folder and your password. After the setup is finished, ...