Cryptdecrypt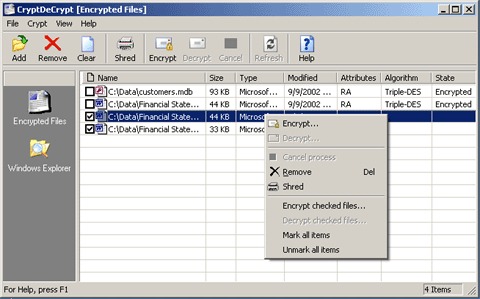 Download URL | Author URL | Software URL | Buy Now ($49.95)
CryptDecrypt provides an easy way to protect your sensitive information. CryptDecrypt encrypts your data with a password that you select. CryptDecrypt includes several encryption algorithms to protect your data: AES (USA Government Standard) Triple-DES, GOST, RC2, RC4 and Windows Data Protection API. Strong encryption ensures that your information will not be stolen from your computer by hackers or viewed by anyone else but you. Note: if you forget your password then you will not be able to decrypt data and all information would be unrecoverable - there are no backdoors to decrypt your data in this software.
Related software (5)

Security tool used to protect your files, folders or even whole volumes in various ways. You will be able to lock, hide, deny file reading and writing, prevent deleting, copying, m ...

EncryptMe is a software product that is used to encrypt any user files (documents, images, etc.) and limit access to your information. The program uses the AES algorithm with the 2 ...

Pdf encryption software allows users to disable pdf print button to protect it, block pdf text (content) copying from being theft, restrict form filling, disallow page editing, sec ...

Pdf password remover software removes various security restrictions + user & owner password from bulk pdf documents like allow pdf printing, text copying, form filling, signing, co ...

east-tec SafeBit 2 features military strength on-the-fly AES encryption, by creating virtual drives, where you can hide files and folders, keep them encrypted all them time, but st ...