Ectcamera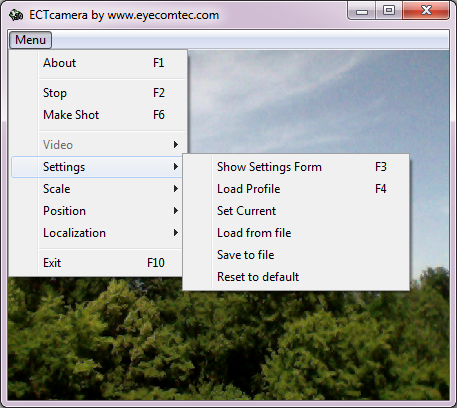 Download URL | Author URL | Software URL | Buy Now ($0)
ECTcamera (EyeComTec-Camera) is a tool that lets your camera be fully utilized to its full potential. It is completely portable and can be run off of any portable storage device. All files will be saved to that storage device. ECTcamera can work alongside command line and may support additional parameters, enabling task schedulers and program managers to run the application on a schedule. This reduces the pressure on RAM and allows it to be supported by even low end computers.

Not only does it have a minimum impact on your computer's power, it has a maximum impact on how you use your camera. It can be used to scale an image, save partial or full screen shots, rapid shots, and supports a wide range of different devices and automatically identifies them. Even the camera resolution is customizable, along with every aspect of the program itself.

Using hotkeys, you can zoom, shift, change the main window size and position, as well as modify the screen shot compression. The user's ability
Related software (5)

Captures movie scenes to picture files or thumbnail galleries

Watch movies in optimum quality on your video player! STOIK Video Converter Pro takes video files in any size and format, producing clips that match your video player perfectly.

MobaLiveCD is a freeware that will run your Linux LiveCD on Windows thanks to the excellent emulator called "Qemu". MobaLiveCD allows you to test your LiveCD or your bootable USB t ...

Mihov DiskFree is a program that shows free disk space in megabytes. It updates the information every second, so it is very useful with programs which consume very much disk space ...
Manage your hard drive and other storage devices.