Dtsearch text retrieval engine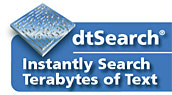 Download URL | Author URL | Software URL | Buy Now ($999)
dtSearch Reviews
* "The most powerful document search tool on the market"-- Wired Magazine
* "dtSearch ... leads the market" -- Network Computing
* "Finding a virtual needle in a digital haystack is now much easier" -- MS OfficePRO
* "Blindingly fast" -- Computer Forensics: Incident Response Essentials
* "A powerful arsenal of search tools" -- The New York Times
* "Super fast, super-reliable" -- The Wall Street Journal
* "Covers all data sources ... powerful Web-based engines" -- eWEEK
* "Searches at blazing speeds" -- Computer Reseller News Test Center
See www.dtsearch.com for hundreds more reviews and case studies.

INSTANTLY SEARCH TERABYTES OF TEXT
The dtSearch product line can instantly search terabytes of text across a desktop, network, Internet or Intranet site. dtSearch products also serve as tools for publishing, with instant text searching, large document collections to Web sites or CD/DVDs. General features include:
* over two dozen indexed, unindexed, fielded and full-tex
Related software (5)

Add spell checker capabilities to your Windows projects! With EffectiveSoft Spellchecker SDK this is easy. The development library contains a common DLL interface and interfaces fo ...

Source code metrics measurement tool with persistence and historical comparisons. Use to measure code quantity and quality for C++, C, C#, VB.NET, Java, Delphi, Visual Basic (VB6), ...

Textract SDK can feed a new program with text data from an existing application even if this application does not support any communication API, like clipboard copy-paste or OCX/au ...

Elerium Word .NET Reader is a handy tool for C#, VB.NET and ASP.NET developers that allows to easily and effectively read Word documents (DOC, DOCX, RTF), without the need to insta ...

Elerium Excel .NET Reader is a professional .Net component that allows developers to read Excel spreadsheet files XLS, XLSX, CSV from .NET applications or ASP.NET websites (C#, VB. ...