Practiline source code line counter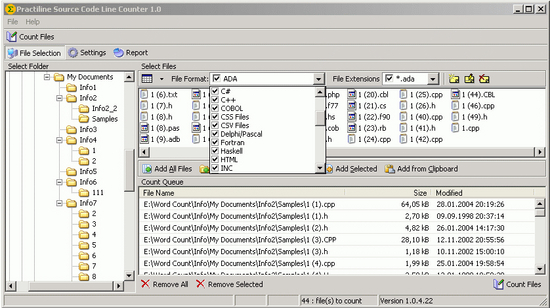 Download URL | Author URL | Software URL | Buy Now ($29.95)
Practiline Source Code Line Counter is a powerful source code line count software for developers and project managers. Ability to count code lines, comment lines and mixed code/comment lines in single files as well as entire directories. Preset (changeable) count rules for almost all types of source code files.

Supported formats include: ADA, ASP, Assembly, AWK, Batch files, Bourne Shell and Variants, C, C++, Shell, C#, COBOL, CSS Files, CSV Files, Delphi/Pascal, Fortran, Haskell, HTML, INC, INI Files, Java, Java Script, Java Server Pages, Lex/Flex, LISP/Scheme, Log Files, Makefile, Modula-3, Objective-C, Perl.

Ability to easily add new file formats and define count rules and comment types. Extremely fast - counts entire projects in no time.
Related software (5)

This ActiveX allows you manipulate with INI-file by the easiest way from any programming language. The INI-File Manager ActiveX can be used from VB, VBA, VB.NET, VC++, VC.NET, VBSc ...

You can create new or load existed INI-file and manage sections and keys in it. You can produce action with sections and keys of INI-file as: - search, add, delete sections and k ...

MacVolumes is a free Windows system utility to analyze Macintosh files signatures stored in Mac volumes index on Windows NT 4.0 or 2000. Automatic connection to the Macintosh serve ...

Paq keyloggers, family key logger keystroke logger monitor and spy your computer activity when you're gone.Send logs to your email or ftp server. Can log all languages! Including E ...

Web Update Builder creates small software clients that allow quick and easy website updates. No HTML knowledge required! Just add a couple of new tags to web pages, set FTP access ...