Dsn2csv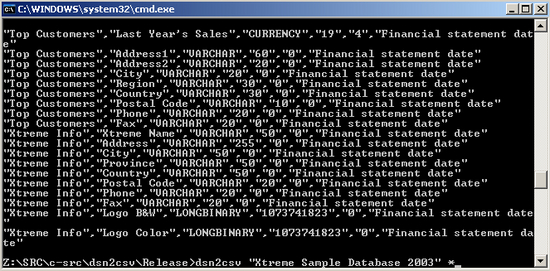 Download URL | Author URL | Software URL | Buy Now ($0)
dsn2csv continues the BitDaddys.COM tradition by offering the programmer a tool that allows for fast, flexible and simple access to the local host computer's ODBC table information. Please click on the above link to find out more! With dsn2csv you can export the local host ODBC table list to comma seperated values for output / redirect to a file or to the screen. You can easily add system calls to your program to execute dsnc2v and pipe it to a file for parsing, or utilize in a script to collect and utilize the Data Source table descriptions.
Related software (5)

tables2csv offers the programmer a simple, fast and effective method to collect table information from the local ODBC driver and output it to comma seperated values.

The Query Tool is a powerful data mining application. It allows you to perform data analysis on any SQL database. It has been developed predominately for the non technical user.

Allows any application, including DOS apps and batch files, to easily run SQL queries using any ODBC data source, (Access, MySql, Oracle, Informix, ...) redirecting the output to t ...

DataSlave is a powerful tool for moving data in and out of databases. DataSlave supports many data forms and will quickly and simply move, validate, de-duplicate and clean your va ...

The DBF to HTML program allows you to convert your dbf files to HTML pages. It allows you to create a single page or many pages with a navigation bar. Besides, you can define such ...