Digital watermark pro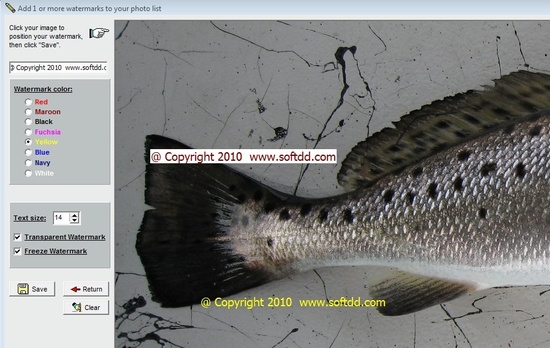 Download URL | Author URL | Software URL | Buy Now ($9.95)
Easily point and click to add your watermarks to your photos. You can view and save your watermarked photos instantly, and can even add in bulk on many images at once. This will help protect your images as you can add a website URL, copyright, name, or title on your photos. You can also add many different watermarks and move them around in different locations on the photo if you wish. Note that your original photos are never altered in any way, as new copies are made when your watermarks are added. As a side benefit, this software will allow you to adjust the JPEG compression level on your new watermarked photos, allowing you to shrink the byte size of your photos. This is a nice benefit if you are emailing your photos to others or putting them on webpages, as the smaller byte sizes will allow photos to be downloaded or loaded quickly, but still be high quality photos with the same resolution. A bulk file renaming feature is also added to this software, allowing you to quickly rename p
Related software (5)

1Click Sweep brings to you 10 + utilities that work together or separate so that no important traces are left after using the World Wide Web or your PC and other service that invol ...

Drive cleanup software wipe data files wiper tool erase private records offline online activity utility delete typed URLs recent visited documents internet cache history hard disk ...

2 in 1. Clean up your Mac's hard drive of tons of unneeded files and find duplicate files with just a drag & drop. We have combined two essential utilities for your Mac in one effe ...

Protect your privacy with this easy to use file shredder | hard drive cleaner for Mac OS X. Clean a disk and erase a file with ShredIt X - easy to use computer security eraser so ...

PurgeIE is a Cache and Cookie cleaner for Internet Explorer users to eliminate their surfing tracks. PurgeIE now has a function to randomize Cookies. PurgeIE manages its cleanup fu ...