Deadhunt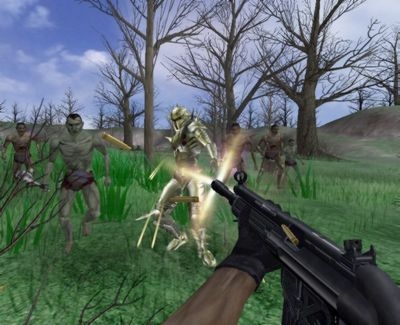 Download URL | Author URL | Software URL | Buy Now ($19.95)
Deadhunt is a first person arcade shooter (FPS) game that merges the best features of arcade and FPS action games.

The undead hordes seemed endless. Thousands of zombies and skeletons surrounded the last bastion of humankind. Many have fallen in Earth's final battle. With grim determination, the last warrior moved forward into the mass of bones. Without hope, without mercy. The day of reckoning has come. Survive as long as you can, kill as many as you can...

Remember those super addictive games from the past where you have to survive as long as possible against endless hordes of monsters? The longer you stay alive, the more perks and bonuses you get. By collecting items from slain monsters, you consistently develop your character.

Deadhunt will remind you of those good old games. However, it brings a brand new level of game play to the genre. Unlike the old 2-D top-view style implementations, Deadhunt is a modern first person 3D-shooter game using all the power of modern 3D acceler
Related software (5)

Make your own action packed FPS games without any programming or 3D modelling knowledge. Using the intuitive Windows-based editor create multi-level games and enjoy the classic FPS ...

Plazmoids! is an arcade game for Palm OS that combines superb high resolution, 3D-style graphics, sophisticated visual effects, and addictive techno music and sound.

Lightslayer is a first person action role-playing game. A dark elven sorceress in missing, and her apprentice - you - will need to find her. Your quest will take you through fore ...

TROY 2000 is a platform arcade action game. Your goal is to collect all the gold nuggets on each level and find a ladder to proceed to the next level in the tower. The tower has 55 ...

Scarlet Grains is strategic labyrinth game. The object is to pick up a set number of coins to open the exit to the next level. But beware, danger lurks at ever turn!