Datapipe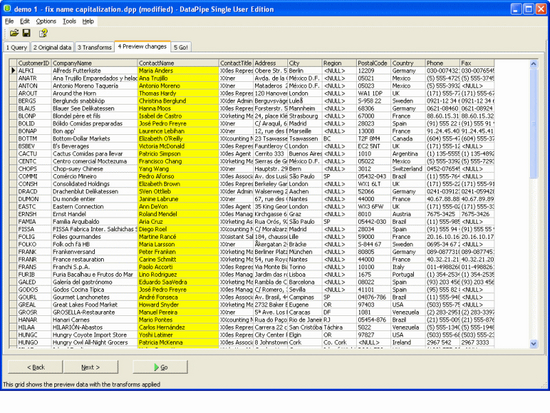 Download URL | Author URL | Software URL | Buy Now ($495)
Search and replace inside databases. Fix garbage data, remove binary characters, change embedded UNC paths coded in your database.

DataPipe interactively or automatically search/replaces data in ANY table. You can correct capitalization in people's names (a solution to the old problem), standardize formatting of addresses (eg PO Box, P.O. Box, POBOX), extract email addresses (for your next CRM campaign), search and replace using advanced pattern matching, fuzzy matching and sounds-like matching (multiple search and replace operations occur in a single pass through the database), trim blanks and multiple whitespace, remove binary characters ("garbage" characters), remove HTML, XML and SGML, convert between ASCII and EBCDIC, OEM and ANSI, Unicode and ANSI, insert or remove text within a column, force text to a specified width, write your own VBScript or JScript (or PerlScript, PythonScript, REXXscript etc) code against columns (and access COM objects) and MUCH more!

Sub filters can id
Related software (5)

Makes it easy for developers AND beginners to design and test patterns. Patterns written with perl regular expressions, egrep regex, MS Word or Brief pattern matching languages can ...

Fast text manipulation and data extraction. Fix websites, database data and electronic text with pattern match, convert DOS/Unix end of line characters, restrict changes to line/co ...
TextPipe is the ultimate Webmaster tool for updating text. It handles an unlimited number of files and folders, and is unique in handling files of unlimited size. It performs one o ...

Next-generation 384 Gigabyte Organizer, opens 12 databases simultaneously. Includes: Word Processor, spellcheck tables search/replace, skinning, drag-drop import/export, hyperlinks ...

This little search and replace utility is great if you need to make changes to a range of text, HTML, XML or other text-based files. It will search one or more folders and show you ...