Treepad x enterprise 384 gb single-user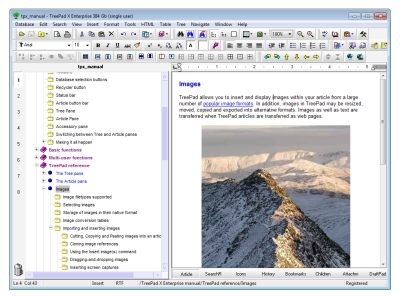 Download URL | Author URL | Software URL | Buy Now ($89.95)
Next generation Personal Database, Word Processor and Organizer with the unique ability to access, edit, store and search databases of up to 384 Gigabytes. Additionally, up to 12 databases can be opened simultaneously. TreePad X Enterprise has been redesigned from the ground up using the most advanced database technology for maximum performance and reliability. Despite its obvious power, TreePad X Enterprise remarkably offers the habitual standards of all TreePad products: it is just as easy to use, as easy to install, and likewise does not need any complicated drivers or dll's - so it never messes up your system nor clogs up your Windows directory. Moreover, TreePad is fully customizable work the way you feel comfortable! TOOL BARS can be hidden, visible, moved or floating; SEARCH ENGINE w. many options, regular, advanced and boolean search; article search/replace. WORD PROCESSOR Spell Checker (20+ langs. , check block/all), Thesaurus, full control of fonts, colors, highlight color, l
Related software (5)

GSNotes is a user-friendly e-notebook that organizes your notes in a folder tree format for your convenience and works as a word processor. The program has received dozens of award ...

Make changes to the data found within an Oracle table.

Feel the calming wisdom that comes from having your every bit of data organized in a coherent tree-outline form. This full-scale personal information manager is a planner, notebook ...

Contact Management Address Book Software for Home or Business. Keep detailed records on all your contacts - phone, addresses, internet addresses, family info, business details, per ...

Image/video files organizer/viewer/editor (+80 formats supported) including a thumbnails viewer, image editor, batch processing, files conversion, screen capture, html exportation, ...