D20 rpg assistant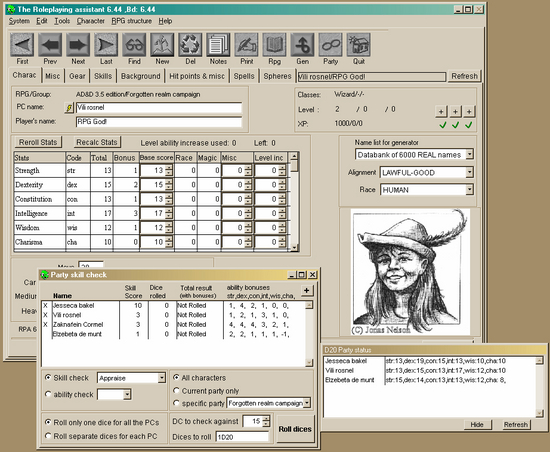 Download URL | Author URL | Software URL | Buy Now ($18)
This character generator is compatible with Star wars, Cyberpunk , Advanced Dungeons and Dragons, Alternity , Rolemaster and In Nomine Satanis Magna veritas (French version by CROC) D20 Modern and Star wars D20 Role playing game systems.

It is a complete set of gaming tools for your Role playing games

- A name generator with many name styles (SF, Tolkien, Japanese, etc) and a list of 6000 real names for your RPG characters.
- Spell book generator (with complete spell descriptions)
- Monster and encounter generator
- Weather generator, gives you weather forecast for the days to come
- Party generator, creates a whole party in a single click
- Dice roller
- Fractal world generator, create maps of entire planets
- Dungeon mapper, create graphical maps for your dungeons
- The Dungeon master report will print a summary of the characters for you
- Customize the reports to your needs, create your own character sheet.
- Templates available to print blank equipment, background,
Related software (5)

Venture into the ruins of Gulkur. Reclaim the sacred Stone of Truth and assemble the seven Elvish Archers of pure Greenwood on the Southern Mountain Range. Make your way North thro ...

Create and play your own Freecell Games with this highly customizable Freecell Game Studio. You can customize entire freecell game rules by selecting Number of Tableau piles, Table ...

Defeat the family of enemy dragons while breaking through spheres breakout style. Dragons are in control of the universe and it is up to you to beat them through 50 colorful level ...

Stop the onslaught of many menacing monsters from invading with the rocket ship. You control the quick ship with either the keyboard or joystick and must shoot the horror characte ...

Play spades on line for fun or for the chance to win InternetSpades real money over the internet web, enjoy great signup bonus, big tournament bonuses, Play OnlineSpades tournament ...