D20 rpg assistant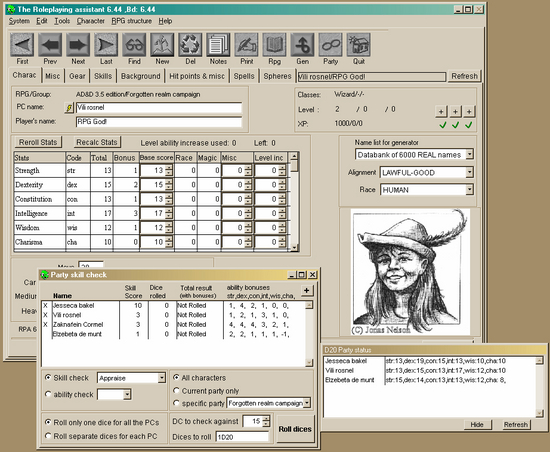 Download URL | Author URL | Software URL | Buy Now ($18)
This character generator is compatible with Star wars, Cyberpunk , Advanced Dungeons and Dragons, Alternity , Rolemaster and In Nomine Satanis Magna veritas (French version by CROC) D20 Modern and Star wars D20 Role playing game systems.

It is a complete set of gaming tools for your Role playing games

- A name generator with many name styles (SF, Tolkien, Japanese, etc) and a list of 6000 real names for your RPG characters.
- Spell book generator (with complete spell descriptions)
- Monster and encounter generator
- Weather generator, gives you weather forecast for the days to come
- Party generator, creates a whole party in a single click
- Dice roller
- Fractal world generator, create maps of entire planets
- Dungeon mapper, create graphical maps for your dungeons
- The Dungeon master report will print a summary of the characters for you
- Customize the reports to your needs, create your own character sheet.
- Templates available to print blank equipment, background,
Related software (5)

Defeat the family of enemy dragons while breaking through spheres breakout style. Dragons are in control of the universe and it is up to you to beat them through 50 colorful level ...

Grab tools, bonuses and powerups without getting hit by trucks pacman style. Drive and navigate your fast car through 50 level mazes of pure excitement. A variety of features inc ...

The Battle for Sludge Valley has begun. Featuring characters and settings from the popular Gross Out world, this the craziest, grossest battle game around!

With very few rules, on field fatalities and quick, hectic matches, Heroic Sports Football is the remedy against stat-heavy, lumbering football simulations. It's football the way i ...

Beautiful soap bubbles slide on top of your PC desktop. Bubbles are moving from bottom to top of screen, pulsing and shining with all the rainbow colors. You can choose number of b ...