Custom addressbook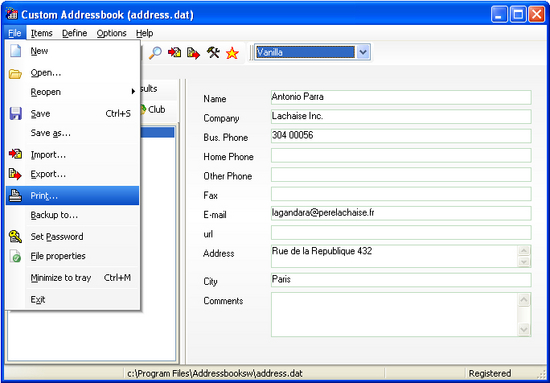 Download URL | Author URL | Software URL | Buy Now ($21.95)
Custom Addressbook is an intuitive, powerful, small, and extremely flexible Address Management program for Windows. Custom Addressbook is unique, among the many apparently similar programs, in that this program enables you to define your own addressbook fields and categories.
An advantage of its small size, is that the program and its database file can run directly from a floppy disk. This means, that anywhere you may be, if you can make use of a computer, then you can also access your Custom Addressbook! All you need is to have with you the diskette with the program and the data file.
Other features: encryption, password protection, save thousands of items in a only few seconds, export to XML, HTML, CSV, TXT; import from CSV, search engine (with multiple search options: search category only, search attribute only, case-sensitive, search at start of field, export search results to CSV, XML, HTML, TXT), support for Windows XP themes and skinning, built-in backup function, import from
Related software (5)

EasyFP is a program which prevent your important files not be deleted unexpectedly. By monitoring all of file operations on encrypted files, EasyFP make sure all of encrypted file ...

An easy to use, small, and extremely flexible Address Management program for Windows 95/98/ME/NT/2000/XP. This program is unique, among the many apparently similar programs, in tha ...

Using PDF encryption software, block pdf printing and copying content from it. Software batch encrypt pdf files, instantly restrict pdf form filling, signing, commenting, extractio ...

Pdf encryption software secure pdf documents with 128 bits RC4 and AES encryption level. Pdf print and text copy security tool can be used to restrict user for pdf printing, conten ...

Protect your private and confidential pdf documents with owner password encryption. Encrypt with user password to allow open only by intended recipients. Disable pdf printing, bloc ...