Encrypt pdf - disallow pdf print copy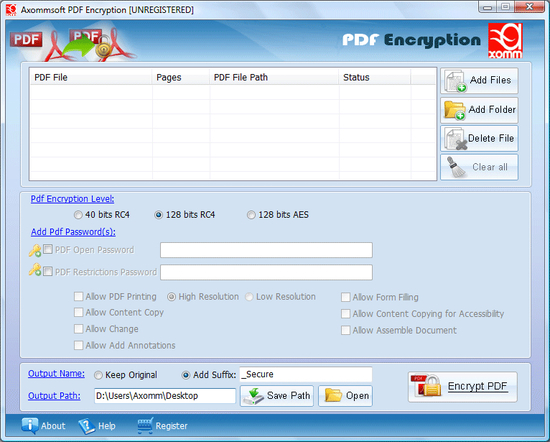 Download URL | Author URL | Software URL | Buy Now ($29.95)
Pdf encryption software is an easy to use solution for protecting your portable digital documents (PDF). Software provides capability to set pdf open password and pdf owner password. Pdf open password is used to lock pdf files for viewing. Thus only the intended recipients can view and read the documents. Owner password is used to secure documents with various restrictions just like user can disable the pdf printing, block pdf text content copying, block content copy for accessibility, disallow pdf form filling, page extraction, protect from commenting, signing etc. User can protect the documents with two types of encryption algorithms 40 bits RC4 and 128 bits RC4 & AES. If you are having lots of pdf documents and want to encrypt each of them with different password, Axommsoft Pdf encryption software is one stop solution. Some features introduced with software are as below:
(1) Software generates password for encryption automatically.
(2) User can set single password on bulk documents
Related software (5)

Using PDF encryption software, block pdf printing and copying content from it. Software batch encrypt pdf files, instantly restrict pdf form filling, signing, commenting, extractio ...

Axommsoft Pdf encryption software add pdf open password and restrictions password (known as owner password) to restrict pdf printing, text copying, changing, filling, commenting, s ...

Pdf encryption software secure pdf documents with 128 bits RC4 and AES encryption level. Pdf print and text copy security tool can be used to restrict user for pdf printing, conten ...

Pdf encryption software allows users to disable pdf print button to protect it, block pdf text (content) copying from being theft, restrict form filling, disallow page editing, sec ...

Encryption of PDF documents with USER & OWNER password uses a RC4 & AES stream cipher which is cryptographically strong for securing documents. Owner guard security restricts pdf f ...