Control screen saver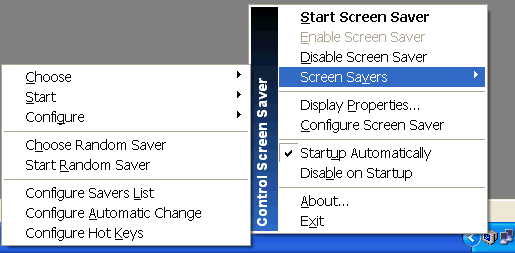 Download URL | Author URL | Software URL | Buy Now ($0)
Control Screen Saver is an easy to use all-in-one screen saver utility that lets you easily control your screen savers with a simple click of the mouse. You can launch, choose, configure, randomize, enable and disable your screen savers from the system tray. You can also hotkey activate and configure the current screen saver.

Features :
- Running as an icon in the system tray, it is designed to be simple to use
through a popup menu interface for quick screen saver control
- You can Enable/Disable/Configure your default screen saver
- Allows you to start/configure/choose every installed screen saver without
opening windows display properties
- Starts your default screen saver with a mouse click
- Starts your default screen saver with a hot key
- Starts a random screen saver with a hot key
- Automatically disables the screen saver at startup
- Automatically changes the default windows screen saver
- Switches off your monitor
- Easy install / uninstall
Related software (5)

Screen Saver with original,astonishing photos of the Black Sea. Wonderful landscapes of landscapes and sunsets. Original High quality pictures. The screen saver has smooth transiti ...

As the name suggests, this is a perfect free screensaver for all the horse fans. It features an adorable collection of images of graceful horses and ponies of different breeds. Dow ...

gPhotoShow Pro is an easy to use make-your-own photo slide show or screen saver. It can display an unlimited number of jpeg, png, tiff, avi, mov,mpg with transition effects,pan&zoo ...

gPhotoShow is an easy to use screen saver that turns your favorite image files into a unique personal Screen Saver slideshow, complete with transition effects. gPhotoShow is also a ...

CubePhotoShow is a fully customizable screen saver that displays your favorite pictures as a moving 3D cube. CubePhotoShow is free, light and easy to use, in few minutes you can cr ...