Color columns logic games collection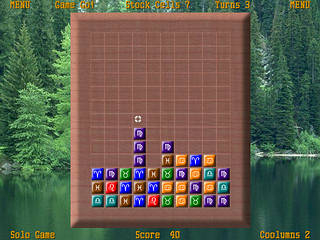 Download URL | Author URL | Software URL | Buy Now ($14.95)
25+ new addictive logic puzzle games, from the well known brands to the new best-sellers! This collection of puzzles includes classic Lines games and new hits: Columns (Coolumns) and Falls Packs. Each puzzle includes several levels. Levels differ from each other in terms of their complexity and aroma of the pleasure, reached to player.

Full version content:

Coolumns Pack, 10 games (1 in DEMO)
Falls Pack, 7 games
Lines Pack, 9 games (1 in DEMO)

Full version features:

Unlimited games play.
Play up to 10 different games levels.
Undo and Redo up to 80 turns of games.
Save your games to start where you left off.
Customize the background and gameboards design.
Amazing full screen graphics.
Record your 120 top scores.

Coolumns dodger:

The new word in logic puzzle game making!

A brilliant idea gave a new birth to the remarkable super-hit known as Lines.
The game board raised almost VERTICALLY, and the appeal of the game as well
as its dramatic nature has increased.
The
Related software (5)
This module contains 7 extra boards for the Sudoku Extend game, represented on our site: www.newlogicalgames.com.

New variant of Chess game for Casual players with random moves generator. You necessary also to have an usual chess board and second player. Interface of the game is specially made ...

Start your quest for treasures in this modern remake of well known classic game. You can play as one, and together with friend. Action of game occurs in picturesque interiors of an ...

20 new addictive logic puzzle games, from the well known brands to the new best-sellers! This collection of puzzles includes classic Tetramino games and new hits: Tetra, Swaps and ...

free style fantasy mahjongg! The goal of the game is to eliminate all tiles on the board by matching pairs of free tiles.