Addin sudoku extend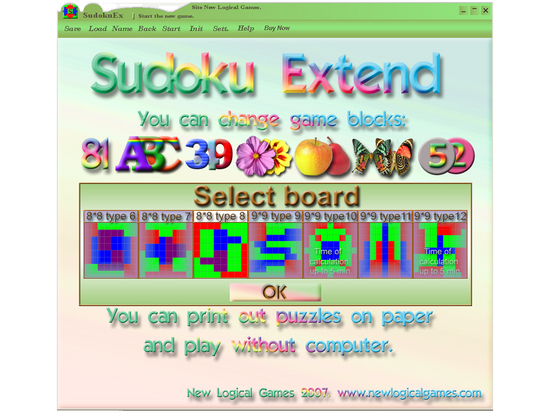 Download URL | Author URL | Software URL | Buy Now ($0)
This module contains 7 extra boards for the Sudoku Extend game, represented on our site: www.newlogicalgames.com. Besides this module contains game blocks which can be used in most of our games. Game blocks are intended for screen resolution 1280*1024 and more. The additions to logical games can be installed only at installed game programs.
Related software (5)

It is the sad story. Romeo laves Juliet and Juliet loves Romeo, but cruel soceress wants to separate them. She flings them on the different sides of a bog... Help their love!

The gangsters filling a field, are going in gangs in the beginning till five, and then till six. As soon as it occurs Lines Killer kills them. The gangsters resist and call a reinf ...

Start your quest for treasures in this modern remake of well known classic game. You can play as one, and together with friend. Action of game occurs in picturesque interiors of an ...

Play Sudoku on squares with different forms on Pocket PC! There are 26 various boards-actually 26 separate games. The game receives new quality due to the new form of squares. New ...

20 new addictive logic puzzle games, from the well known brands to the new best-sellers! This collection of puzzles includes classic Tetramino games and new hits: Tetra, Swaps and ...