Cm2012 console create report fix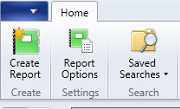 Download URL | Author URL | Software URL | Buy Now ($0)
If you have Configuration Manager 2012 and you are using SQL Reporting, you may want to create some custom reports. In your Configuration Manager 2012 Console, you can browse to Monitoring, then into the Reporting module. This will display all the reports that are currently available to you. If you want to create a custom report, you can click on the Create Report button on the ribbon However, you may find that when you do this, you get the following error pop up:

'The Report Builder click once application does not exist on the report server 'your-report-server'. Ensure that the report builder application manifest exist on the server and try again'.

The reason for this is that there is a registry key that needs to be updated to version 3 as when the CM2012 console is installed, it puts in the version 2 key and the report builder will not work.

To make this fix as simple as possible, we have created an MSI installer that will make the changes required and then allow you to create cus
Related software (5)

Excellent Query Management tool for DBISAM 4 Users. Complete with Categorization, Syntax Coloring, Live Result Editing, One-Click Export to MS Excel, and much, much, more.
Easy Chart 3D GEO is easy to use graphical reporting tool for effortless generation of business, management, financial and ad-hoc pie charts (Cylinders and Cubes also supported) of ...

The Program XL Report Builder is a powerful and flexible tool for creating reports of any level of difficulty in the form of the Microsoft Excel Book.

Designed to scan your entire computer system to detect and repair many Windows errors and faults, Fix Error Codes is your one stop error fix solution.

Fixes the error you get when using Configuration Manager Console on a client machine with MDT integration enabled.