Chroma-ways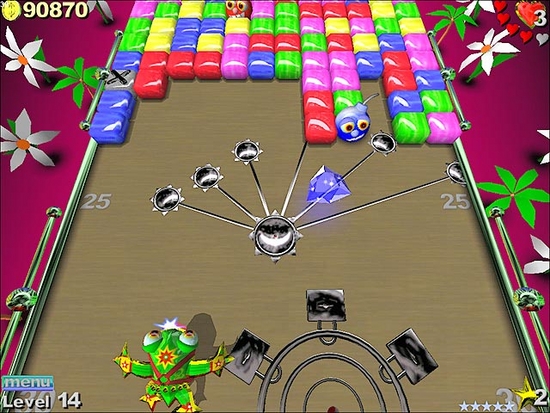 Download URL | Author URL | Software URL | Buy Now ($19)
Puzzle lovers are likely to remember Collapse, a three-match classic game. Its goal is to click on groups of three or more blocks to clear them from the board. Chroma Ways from AxySoft takes this concept to the whole new level, spicing up the gameplay with lots of powerups, bonuses and incredible graphics delivered in a visually pleasing three dimensional mode. Besides, in Chroma Ways you are not alone. There is a funny character - Flying Frog!
Flying Frog must survive the attacks of the colored blocks scattered all the way along the road to the next level. As you approach them, these menace troublemakers start jumping up into the air attempting to take the frog down and after several hits they may actually succeed! Therefore the goal of the player is to aim a cursor at no less than three blocks of the same color and blast them before the frog approaches the front line of the blocks. Players advance to the next level once the frog reaches the gate up the road it flies along.
Completi
Related software (5)

Match colors while connecting shapes in this beautiful and challenging puzzle game. Drifting through space with the stars as your backdrop, you must advance through increasingly di ...

A fun and unique Tetris game with 8 puzzle pieces. All the standard ones are included and even some different designed ones. Each level the game will speed up and throw you a lar ...

The objective of Linkz is to connect all the open ends of the pipes, electronic circuits, roads or whatever tiles you may be using together so they form continuos shapes. And all t ...

Beat the clock and break the blocks!

Group and break the hexagonal bricks!