Bubble bobble nostalgie mac edition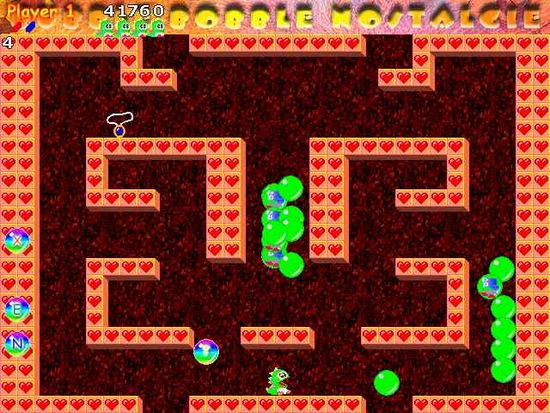 Download URL | Author URL | Software URL | Buy Now ($14.95)
On each stage you play one or pair of little dragons against enemies. These dragons can blow bubbles to catch enemies inside. After that you should jump on bubble with an enemy trapped inside and pop them! To incrase your score you should pick up items: fruits,vegetables, diamonds, jewels etc. You can also pick up some items to make your journey easy. This items are called "bonuses". They appear on stages after some events. Some of them increase speed, range of bubbles' firing, others give you a chance to get more score points or extra lives. On some stages you can pop special bubbles that appear from holes in the top or/and bottom of stage. These special bubbles will help you to destroy monsters in different ways. Your goal is to defeat the Mad Sorcerer (first episode - stage with 1 on 100) and the Ghost (second episode - stage with 101 on 200). The Mad Sorcerer is located on 100th level. The Ghost is located on 200th level.
Related software (5)

Start your adventure today and rescue all animals of the Funny Islands. Drag animals into matching slots. Fill Out the screen before time runs out. Enjoy beautiful hand rendered gr ...

Forget about your daily routine and dive into this amazing world of mystery and adventure. Lead your little hero through this beautiful world full of risky turns and joyful surpris ...

A new challenge for all breakout-style games fans. Game Features: 90 challenging levels, moving bricks, attacking spaceships, several types of balls and weapons. It is a fantastic ...

Like the Mayans of old, if you lose at this game, you shall be slain!

Master of Tactics is a 4X Turn Based Strategy Game. It is heavy on strategy and light on micro management. Features include, Random Galaxy Generation, Custom Craft Design, Tactical ...