Blood bath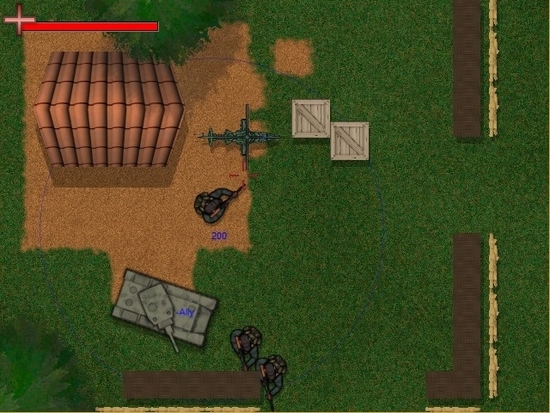 Download URL | Author URL | Software URL | Buy Now ($0)
Bloodbath is a team shooter with a view from above, in which two teams fight.
Immediately after the start of the game you will find yourself on the battlefield. There are 3 points on the map: yours, enemy's and neutral. Your goal is to protect your base and grab someone else's. You can also grab a neutral position to strengthen your position.

Controls:
Movement (w, s, a, d),
Shoot (LMC)
Sit in the vehicle (Enter),
Restart the game (Space).

Bloodbath is a team shooter with a view from above, in which two teams fight.
Immediately after the start of the game you will find yourself on the battlefield. There are 3 points on the map: yours, enemy's and neutral. Your goal is to protect your base and grab someone else's. You can also grab a neutral position to strengthen your position.

Controls:
Movement (w, s, a, d),
Shoot (LMC)
Sit in the vehicle (Enter),
Restart the game (Space).

Bloodbath is a team shooter with a view from above, in which two teams fight.
Immediately after the start
Related software (5)

This game is a parody of Star Wars. The plot revolves around the deeds and love of Paladin, Henry Jones and Princess Alice, and you play as Henry. Piloting his spaceship, you will ...

Children's Chess. All figures are presented in the form of amusing balls, armed and spotlighted in proportion to the degree of importance of the figure. The best version for a youn ...

Exercises that promote attention and peripheral vision will help develop speed reading capabilities. There are 3 exercises: 1 - Two letters will appear on the screen. The upper can ...

Left and right arrow buttons are using to move your character left and right. To crash ice cube press spacebar button many times. To use your boosters use 1-,2-,3-,4-buttons. For o ...

Continuation of the first part of Dead Void. When you reached the city, you need to wait for help. How long you can last in a huge city, fully inhabited with zombies? At your dispo ...