Batch photo face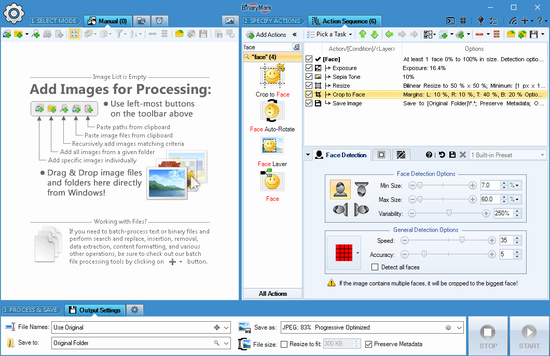 Download URL | Author URL | Software URL | Buy Now ($17)
Automatically recognize faces in 1000s of photos and process images based on face detection results!

- Crop images to recognized human faces
- Automatically blur all faces in pictures
- Extract all faces from photos into files
- Automatically rotate pictures based on detected face orientation
- Built-in and cloud-based face detection
- 130+ Actions and Effects: resize, contrast, watermark, etc...
- Convert to/from and save results in any of 30+ formats: jpg, png, gif, tiff, bmp, j2k
- 20 scaling modes: Lanczos, Bilinear, Bicubic, Box, HqX
- Rotate and flip manually or using EXIF orientation tag
- Fit to fixed size or rectangle; fit to aspect ratio
- Perform lossless JPEG crops, flips, and rotations
- Automatic crop, crop to fixed size, crop from edges, crop to W:H ratio
- Resize canvas and add padding; change print resolution
- Change width and height independently or proportionately
- Set dimensions using pixels, percentages %, or print units
- Automatically shrink images to fit a de
Related software (5)

Batch process multiple and single images - resize, add borders, overlay text, overlay/underlay images, crop, and rotate/flip images. Includes batch image processing via command lin ...

Exif wMarker is a simple and user friendly tool to add a visible watermark to your images. The watermark text can be a fixed text (such as copyright or company web site), an image ...

Resize, crop, shrink, flip, EXIF-autorotate, resample, convert, enhance, and process multiple pictures and photos with this professional software! 120+ Actions, 30+ Image Formats, ...

Add stylish static or dynamic text and graphic watermarks to your images and photos. Features include 120+ actions and effects, 30+ image formats, 40+ blend modes, alpha channel, t ...

Find, resize, crop, watermark, enhance, adjust, convert, rename, and process your pictures and photos in 30+ image formats with 120+ filters and effects using this graphics softwar ...