Batch image splitter free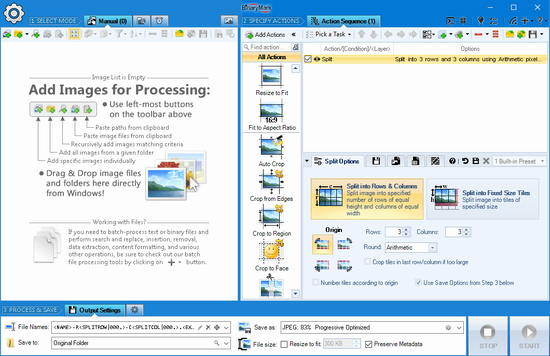 Download URL | Author URL | Software URL | Buy Now ($17)
Split multiple pictures into specified number of slices by rows and columns or into tiles of a desired size!

- When you split images into rows and columns you need to specify the desired number of rows and columns
- When splitting an image into tiles of a given fixed size, you have the option to specify that size precisely using either percentages or pixels to set tile's width and height
- 130+ Actions and Effects: resize, contrast, watermark, etc...
- Convert to/from and save results in any of 30+ formats: jpg, png, gif, tiff, bmp, j2k
- 20 scaling modes: Lanczos, Bilinear, Bicubic, Box, HqX
- Rotate and flip manually or using EXIF orientation tag
- Fit to fixed size or rectangle; fit to aspect ratio
- Perform lossless JPEG crops, flips, and rotations
- Built-in and cloud-based face detection to perform advanced image processing on photos with detected faces
- Automatic crop, crop to fixed size, crop from edges, crop to W:H ratio
- Resize canvas and add padding; change print resoluti
Related software (5)

Batch process multiple and single images - resize, add borders, overlay text, overlay/underlay images, crop, and rotate/flip images. Includes batch image processing via command lin ...

Automatically recognize faces in 1000s of photos and process images based on face detection results! Use over 130 Actions and Filters like resize, crop, contrast, etc. Convert to/f ...

Exif wMarker is a simple and user friendly tool to add a visible watermark to your images. The watermark text can be a fixed text (such as copyright or company web site), an image ...

Resize, crop, shrink, flip, EXIF-autorotate, resample, convert, enhance, and process multiple pictures and photos with this professional software! 120+ Actions, 30+ Image Formats, ...

Find, resize, crop, watermark, enhance, adjust, convert, rename, and process your pictures and photos in 30+ image formats with 120+ filters and effects using this graphics softwar ...