Banshee screamer alarm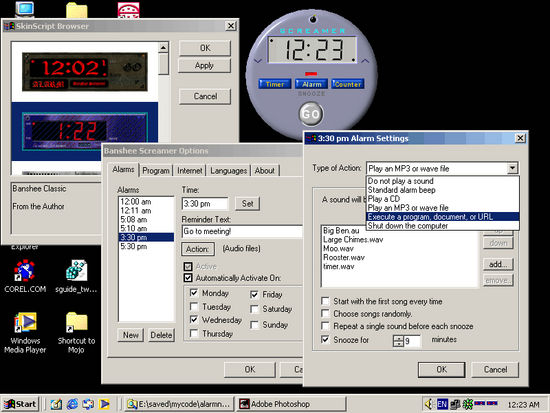 Download URL | Author URL | Software URL | Buy Now ($0)
Banshee Screamer Alarm was designed with one purpose in mind: To wake you up. Is your clock radio broken? You never had a clock radio? You can't be bothered to go out and buy a clock radio? Do you sleep at your desk?

Good! Because Banshee Screamer Alarm was designed for you.

It has the following features:

- Schedule up to 99 alarms on different days of the week.
- Play MP3 playlists, run a program, or shut down the computer at the time you set.
- Auto-snooze by bashing your hand down on the keyboard or thowing the mouse at the wall.
- Includes count-up and count-down timers.
- Synchronize with atomic clocks hourly, daily, or weekly.
- Fully skinnable; import over 500 skins from Beatnik and QuickClock.
- Support for multiple languages.

Related software (5)

Someone had lost his watch near the magic pond and a miracle happened. The watch became a part of the natural environment. Now we can feel the pulse of Mother Earth and synchronize ...

Decorate your desktop with colorful butterflies flying over the river and funny squirrel running above the trees. Feel the fresh river air and always know the current time!

A spaceship landed onto a distant planet, where scientists have found a deposit of new resources. The ship started extracting such treasures of the planet as joy, pleasure, love an ...

SClock Plus is an easy-to-use desktop multilingual speaking clock with skin support and full-featured alarm system, that allows an user to set multiple alarms.

Alarm is a digital clock that you can set to display a message and play a sound at a time of your choice. It is meant to be of help when you want to be warned while you are working ...