Altova xmlspy professional edition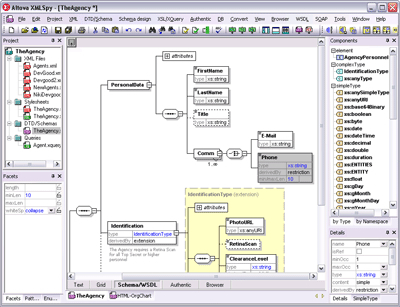 Download URL | Author URL | Software URL | Buy Now ($499)
Altova XMLSpy 2017 Professional Edition is the industry-leading XML editor and XML development environment, with intuitive editing views and powerful XML utilities to model, edit, transform, and debug XML-related technologies quickly and easily. XMLSpy is powered by RaptorXML for lightning-fast validation and processing. In addition to the world's most popular XML editor, XMLSpy includes a graphical XML Schema 1.0/1.1 editor that allows you to design and document complex schemas with ease. Schema flattening and subset creation are also supported. Revolutionary Smart Fix validation not only reports validation errors, but suggests options for fixing them with one click, making troubleshooting a breeze. It also includes a schema-aware XSLT 1.0/2.0/3.0 editor and debugger for perfecting stylesheets, plus support for stylesheets that use Java, C#, JavaScript, and VBScript. The XPath 1.0/2.0/3.1 Builder / Evaluator and intelligent XPath auto-completion assist in the building and testing of
Related software (5)

CredibleXML 2.1 is an IDE that generates .NET assemblies to parse and convert files or streams into fully defined XML with DTD and W3CSchema. Free and commercial versions available ...

Template-driven docs/reports generator by the data from XML files. The templates are created using a graphic Template Designer basing on the data type information from DTD or XML S ...

Bonodi XML Editor is a multilingual XML editor for MS Windows 98/Me/NT4/2000/XP. You can edit XML documents in English, Japanese, Chinese, Korean, Russian, Greek, Thai, Hebrew, Ara ...

Stylus Studio XML IDE features XML Editing, Debugging, Testing/Benchmarking and Deployment Tools for any XML technology, including XML Schema, Relax NG, DTD, XSL/XSLT, XPath, XQuer ...

Messages Editor is a Freeware. It's a Messages and Labels database management tool, primarily to manage text-based content and their translation of the BLQ-software, but also featu ...