Abusepipe abuse desk management software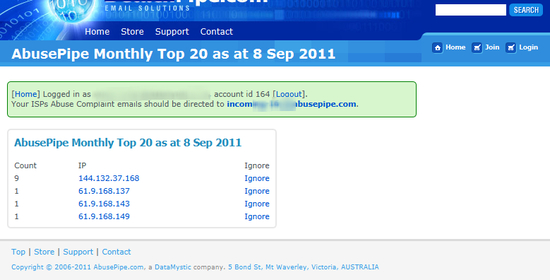 Download URL | Author URL | Software URL | Buy Now ($99)
Abuse Desk Management Software, Abuse Queue Management Software. Identifies the originating source of email abuse complaints extremely quickly, and allows you to immediately contact the originating customer and take appropriate action. AbusePipe is the ONLY system that deals with abuse COMPLAINTS, and helps ISPs in their fight against SPAM from within their own networks. Use with KANA and other incoming mail solutions.

Advantages-
* Far quicker response time to abuse emails (From 3 weeks down to 1 day or 1 hour depending on reporting period chosen)
* Far less chance of your ISP being black-banned by other ISPs for failure to act against SPAMers
* Less technical staff required to investigate abuse. Technical staff can return to their normal job functions rather than spending the majority of it reacting to email abuse
* SPAMmers will find your ISP less of a 'soft target', and hence they will target other ISPs
* Move abuse follow-up to a front-of-house activity, with a simple report forw
Related software (5)

An affordable, network ready,desktop and browser based program that let's you quickly record and update support requests as well as computer, software and peripheral inventory info ...

The Help Desk Toolkit offers the definitive guide to setting up and running a successful Help Desk-now updated and expanded to include the latest Web-based technologies.

The online advisor for guided selling, product selection, configuration, or virtual help desk: the fully integrated web application WizAdvisor. Ask your customer for needs or usage ...

MGCS version 2006 includes an easy to use desktop application, with a redesigned web interface and new Pocket PC applet. All three components can work together and are included in ...

TicketAxis - Trouble Ticket Management software from SupportAxis is a downloadable ticketing support system that covers all aspects of an efficient and reliable ticketing system.