Winter dreams screensaver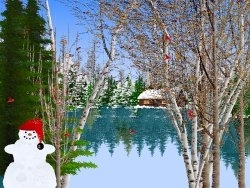 Download URL | Author URL | Software URL | Buy Now ($12)
Decorate your screen with snowy winter landscapes and holiday scenes. Animated falling snow, birds and more in 10 different scenes with sounds and music. Elements in a scene are drawn randomly each cycle and no two scenes are exactly alike. Registered users receive the added option of creating their own winter scenes with elements provided, naming and including them in the viewing rotation.

Choose from 10 different scenes or select Random.
Choose which scenes to rotate when running in random mode.
Create up to 10 Make Your Own scenes. Choices include terrain, trees, sky, snow, cabin, holiday elements and other additions, as well as naming and including them in the viewing rotation.
Select how long it will snow at the end of each scene.
Choose how fast or slow the screensaver draws.
Adjust Wind, Speed, and Number of snowflakes.

What's New for v5.0: Enhanced graphics,interface. Added animation, music and sounds.
Related software (5)

Don't lose the true meaning of Christmas in the hustle and bustle of the season. Download this heartwarming screensaver and share it with your family and loved ones on the Holy Nig ...

Christmas Time is here! With this heartwarming screensaver you will get all the ornaments you need to decorate your desktop. The gorgeous Christmas trees and houses covered with sn ...
Santa is coming to your desktop! Download this Merry Christmas screensaver and let it bring the gift of Xmas joy right to your PC. Share the fun with your family and friends by the ...

Download this screensaver and find yourself in a winter fairytale. Enjoy the views of glistening ice crystals in the trees dressed in white snowy gowns like silent guards of the my ...

Decorate a Chrstimas tree. Options include falling snow, twinkling lights, 8 classic Christmas Carols and more. The program can be controlled by you or randomly drawn by the compu ...