Wifi password dump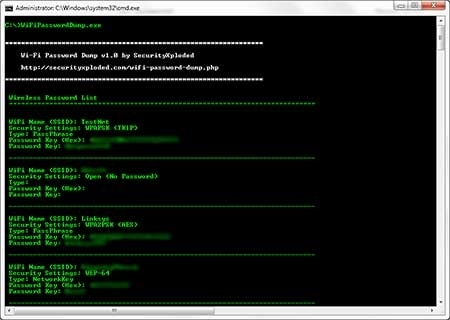 Download URL | Author URL | Software URL | Buy Now ($0)
WiFi Password Dump is the free command-line tool to quickly recover all the Wireless account passwords stored on your system.

It automatically recovers all type of Wireless Keys/Passwords (WEP/WPA/WPA2 etc) stored by Windows Wireless Configuration Manager.


For each recovered WiFi account, it displays following information

# WiFi Name (SSID)
# Security Settings (WEP-64/WEP-128/WPA2/AES/TKIP)
# Password Type
# Password in Hex format
# Password in clear text

By default it dumps all the recovered passwords to console. Now with version v2.0 onwards, you can also save the passwords to TEXT file.

Being command-line tool makes it useful for penetration testers and forensic investigators. For GUI version check out the Wi-Fi Password Decryptor.


Wi-Fi Password Dump works on both 32-bit & 64-bit platforms starting from Windows Vista to Windows 8.
Related software (5)

Free All-in-one Router/Modem Password Recovery Tool

SterJo Wireless Passwords is a free password recovery software which you can use to recover your lost wireless network passwords. Just by running this software on your system you c ...
The Complete Set of Wireless Security Tools from SecurityXploded
WiFi Password Decryptor is the FREE software to instantly recover Wireless account passwords stored on your system

WiFi Password Remover is the Free software to quickly recover and remove Wireless account passwords stored on your system.