Website x5 free 11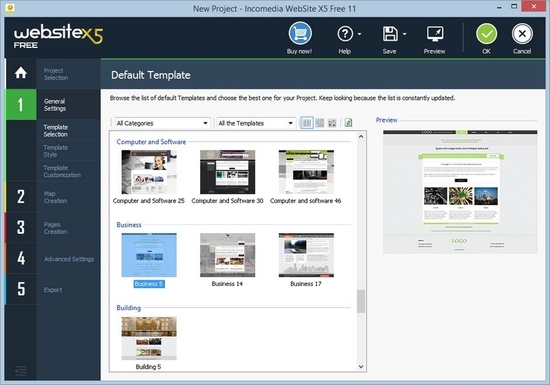 Download URL | Author URL | Software URL
Website X5 FREE is the most intuitive solution to create eye-catching and functional websites with no costs. No programming skills are required and you can use a simple fully-visual and intuitive interface that guarantees flexibility and customization. With WebSite X5 FREE you can create your website in just 5 easy steps:
1. Choose from 100 different graphic templates included in the program.
2.Add up to 10 pages and organize your website structure: your navigation menu will be created automatically according to the sitemap.
3.Drag &Drop your content: add text, images, videos, audio and Flash animation.
4.Customize your website giving your website your own personal touch.
5.Publish your website using the built-in FTP engine.
So now you can have your very own website, to make yourself known, talk about your hobbies and share your interests. WebSite X5 FREE includes a lot of useful tools: images, templates,buttons and a graphic editor; organize your website pages
Related software (5)

UltimateTemplateEngine is a powerful template engine for generating formatted text output from source template and input variables.

WordPressPro, Wordpress Theme Software App by Wall Mount Fish Tank. This easy to use wordpress tool enables you to create you very own, unique Wordpress themes in minutes! Geat for ...

WYSIWYG web design software that combines total page design freedom with the power to create cutting edge, mobile friendly sites. No HTML or JavaScript skills required.

Xara Web Designer is an easy to use template based web page creation tool that gives you total page design freedom, no HTML or JavaScript skills required.

WebSite X5 Evolution is the ideal software to turn your website dreams into reality. It includes all the latest state-of-the-art features to create eye-catching, complete and profe ...